The calendar has turned to March, so we are quickly approaching my favorite time of the sports year:

March Madness.

For the casual fan, the term "March Madness" refers strictly to the NCAA Tournament, which, to be sure, is one of the greatest sporting events of the year.

For me, however, the NCAA Tournament takes a backseat to conference tournaments, which are unparalleled in terms of excitement, unpredictability and drama.
Why do I love conference tournaments more than the NCAA Tournament?

Try these on for size:
·
The Dream:

Everyone (in general) is still alive and can dream of running the table to make the NCAA Tournament, then winning it all.
·
The Culmination:

As a hardcore fan following all of the regular season conference races, this is an opportunity to watch the action of January and February come to a stirring conclusion.
·
Familiarity Breeds Contempt:

Conference tournaments provide another opportunity for old rivals to duke it out in a neutral site setting, as opposed to the interleague approach of the NCAAs.
·
Familiarity Breeds Love:

Mismatches occur in both types of postseason play, but I would much rather watch a lower seeded major conference team that I have been watching all year than some small conference tomato can.
·
Better Post-Upset Matchups:

Teams are more evenly matched in the conference tournaments.

When a #15 seed beats a #2 seed in the Big Dance, my first thought is "Well, this sucks.

I don't want to watch Norfolk State in the next round."

In a conference tournament, you can say, "Awesome.

Maybe Washington State can get hot and make some noise against Arizona."
·
The Love of the Game:

People tend to deride the conference tournaments as meaningless, but the lack of a prize can make it so much more meaningful when, for example, two teams that are locked into a high seed are going toe-to-toe for nothing else than pride and love of school.
·
The Purity:

During conference tournaments, I don't have amateurs telling me about their uncle's pool or waving brackets in my face

(

PSA:

the only thing more annoying than hearing about your brackets is hearing about your fantasy football team.

This is not my opinion; it is an incontrovertible fact).
·
The Action:

More games means more gambling.

On the Thursday of conference tournament week, the wall-to-wall action runs from dusk to dawn in all corners of this fine country.

Truly a beautiful thing.
Unfortunately, I am sad that, for the second consecutive year, I will not be in Las Vegas, which is the undisputed epicenter of conference tournament week.

With the Pac-12 Tournament moving to Las Vegas this year, Sin City is now hosting four conference tournaments in 2013.

Along with live action, Vegas, of course, features unlimited viewing, gambling and drinking options, which always makes for a glorious four or five days.
Rather than previewing the tournaments, I am instead going to rank each major conference tournament from most favorite to least favorite.

Keep in mind that picking a "least favorite" conference tournament is like selecting a least favorite Rolls Royce.

In other words, we're dealing with varying degrees of awesomeness.
1.
SEC Tournament (rotating sites; principally in Atlanta, GA, but also recently in Tampa, FL, New Orleans, LA and Nashville, TN) - The gold standard of wacky, nutty and downright zany outcomes.

From tornadoes to Renardos (as in Balkman, of South Carolina's miracle run to the final in 2006) to Varnardos (as in Jarvis, shot blocking virtuoso from Mississippi State), the fun never stops.

Mix in massive numbers of full throated Kentuckians descending upon "Catlanta," or this year in Music City, and you've got a reliable recipe for down home excitement.

In any event, some things are difficult to explain and my undying love for SEC hoops is one of those things.
Predicted Winner:

Florida
Possible Cinderella:

Arkansas
2.
Big East Tournament (New York, NY)- When you bring great players and legendary coaches together in the World's Most Famous Arena, you necessarily get unforgettable moments, which makes it so sad that this tournament will never be the same again after the Big East dissolves.

The memories are indelibly etched in my mind:

Ray Allen's friendly rim jumper over Allan Iverson, Gerry McNamara's amazing run of buzzer beaters, Colin Falls with the buzzer beating 3 against West Virginia, 6 overtimes between Syracuse and Connecticut, DaSean Butler with back-to-back game winners (punctuated by the "The Butler Did It Again" call from the incredible Sean McDonough) and the inimitable Kemba Walker helping UConn win 5 games in 5 days.

Simply put, this is the highest level of play of any conference tournament and it will be dearly missed.
Predicted Winner:

Louisville
Possible Cinderella:

Providence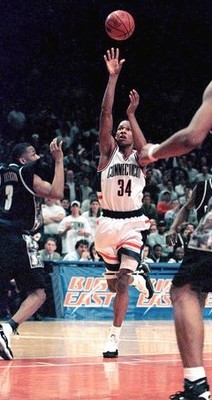 3.
Big 12 Tournament (principally in Kansas City, MO but also recently at Oklahoma City, OK or Dallas, TX)- Another great tournament with some extremely well played, competitive games.

For a classic example, look no further than 2007, when star freshman Kevin Durant led Texas to a 32-10 lead, only to see the Kansas Jayhawks come roaring back to win in overtime.
On the wildness front, it gets no better than 2003,when Kansas State's Pervis Pasco intercepted desperation pass and started running off the floor to celebrate a hard fought two point win.

Unfortunately for Wildcat fans, there was still two seconds on the clock when Pasco caught the pass, so his premature celebration resulted in a traveling call.

With a second chance on life, Colorado's James Wright proceeded to drill a buzzer-beating 3 pointer- off the backboard, no less- for the win.
Predicted Winner:

Iowa State
Possible Cinderella:

Texas
4.
Pac 12 Tournament (formerly in Los Angeles, CA, now in Las Vegas, NV)- The Pac-12 is usually very balanced, which results in plenty of close contests and exciting runs by lower seeds.

Notable moments include Colorado's miracle run last year, two-time tournament MVP Isaiah Thomas's cold blooded jumper to sink Arizona in 2011, DeMar DeRozan's DeLightful run of dominance to score the victory for 6th seeded USC and 4th seeded Oregon blowing out everyone in 2007.

The relocation to Vegas should make things even more exciting.
Predicted Winner:

California
5.
ACC Tournament (principally in Greensboro, NC) - There are many reasons to respect Duke and their approach to the ACC Tournament is near the top of the list.

Coach K, in contrast to his disciple Mike Brey, has always emphasized the importance of winning the ACC Tournament and his teams have delivered to the tune of 10 titles in 14 years.

As they say, a rising tide lifts all boats and the Blue Devils' winning approach has caused their conference brethren to raise their collective level of play, thereby resulting in some tremendous moments including:

Tyler Hansbrough hitting the game winning jumper against Virginia Tech in 2008 (followed by one of the more awkward celebrations ever), Maryland beating Duke in an overtime classic in 2004, Georgia Tech's near stolen bid in 2010 and, from the way back machine, Randolph Childress delivering a performance for the ages in 1995.
Possible Cinderella:
Clemson
6.
Big Ten Tournament (rotates between Chicago, IL (2013) and Indianapolis, IN)- The Big Ten suffers a bit from its general pace of play and the fact that viewers might be suffering from tournament fatigue by the time the final rolls around on Sunday afternoon.

It has not, however, been lacking in the buzzer beater department, as seen by Minnesota's Blake Hoffarber hitting a miracle turnaround three to beat Indiana in 2008 and Evan Turner's half court bomb to sink Michigan in 2010.
Bonus side story:

On the day after Turner's shot, Ohio State was favored by 6 to beat an Illinois team that was squarely on the NCAA bubble.

My friends and I all took the Buckeyes , who erased a large second half deficit and narrowly escaped two excellent chances for Illinois to win at the end of regulation and the first overtime.

In the second overtime, Ohio State hit two late free throws to win by 7 and we all started going crazy, along with other people in the Aria sportsbook.

Among those celebrating were two Illinois fans who had bet on Ohio State and were apparently more happy to win $20 than to see their team make the NCAAs.

Illinois was ticketed for the NIT two days later.
Predicted Winner:

Indiana
Possible Cinderella:

Iowa
In addition to the major conferences, I always have a soft spot in my heart for two others:

the Missouri Valley Conference ("Arch Madness") and the Atlantic 10 Tournament.

Arch Madness features great basketball fans, a lively venue and many evenly contested teams, while the A10 showcases its impressive depth.

The latter moves from the Boardwalk in Atlantic City to Brooklyn this year, which offends my traditionalist and nostalgic sensibilities, but with the "Catholic 7" defecting from the Big East, it is clear that turbulent times are ahead for the A10.
Predicted Winners:

Illinois State (MVC) and LaSalle (A10)
Possible Cinderellas:

Drake (MVC) and Saint Bonaventure (A10)