Not the same gravitas to this week's slate of games with title aspirations at stake for both schools, but very juicy matchups nonetheless. We bring you the four games with two ranked foes, plus a Thursday night showdown in Manhattan. It's usually these "calm before the storm" weeks that carry less fanfare that turn into the wild upset weekends. We'll see if that is the case. On to the picks...
Nebraska
(-11) at Kansas State (Thurs)
I feel like we've discussed ad nauseum on this blog about the home team on Thursday night. But the Huskers have been dominant this year (albeit against some fairly weak competition, UW notwithstanding). I think Bo will have them ready to go for their Big 12 opener. Nebraska rolls big on the road, headed towards the Big 12 Championship game.
Nebraska
31 Kansas State 14
I'm sold on the resurgence of the Huskers, if only because Doug and Matt

keep telling me to believe.

This seems like a perfect trap game though – on the road on a Thursday in Manhattan with big games looming on the horizon.

If this were anyone other than KSU, I might be tempted to pick the 'dog here.

But I don't think KSU is any good, and the Huskers should roll.
Nebraska
31

Kansas St.

14
Call it the Thursday Evening RoaD Syndrome (TERDS), but I give the home team on a short week with an animated, happy-not-to-be-in-the-library crowd a big advantage.

What has TERDS taught us this season?
Short Week Night Games of Merit:
Pitt 24 @ Utah 27 (Thurs)
Auburn 17 @ Mississippi State 14 (Thurs)
West Virginia
24 @ Marshall 21 (Fri)
Cincinnati
19 @ NC State 30 (Thurs)
Kansas
16 @ Southern Miss. 31 (Fri)
California
31 @ Nevada 52 (Fri)
Miami
31 @ Pitt 3 (Thurs)
Texas
A&M 35 @ Oklahoma St. 38 (Thurs)
BYU 16 @ Utah St. 31 (Fri)
With only one exception, the home team in short week contests is victorious (6-3 in above sampling) or at least down to the wire.
Were the Huskers guilty of playing down to their competition in slipping by South Dakota State two weeks ago?

Probably.

But they've had plenty of time to work things out, so the "short week" theory doesn't apply to them.

I like Nebraska and what Bo Pelini is doing.

The Blackshirts show up in the Little Apple.
Nebraska
34

Kansas State 21
Another battle of two Big 12 undefeateds kicks off the college football weekend from the Little Apple.

I really have no idea how good Nebraska is since their schedule has been a joke.

They beat South Dakota State

17-3 two weeks ago and haven't played since.

Speaking of their schedule, what is their toughest remaining game?

At Oklahoma State maybe?

They could go through the whole season without playing a ranked team.

Come on Nebraska, you're better than Western Kentucky, Idaho, South Dakota State and Washington in the nonconference.
Kansas
State has played better competition, having already beaten UCLA and Iowa State.

But there are signs that this team may be more pretender than contender.

For starters, the passing offense is ranked 103rd in the country, and against a defense like Nebraska, it's tough to survive being a one dimensional offense.

They haven't exactly been lighting up the scoreboard either, squeaking out a 17-13 win over UCF last time out.

It will be interesting to see how emerging star running back Daniel Thomas does against the Blackshirts.
This is a classic recipe for a trap game for Nebraska, which must face a wily veteran coach in an electric road environment with its biggest game of the season looming ahead next week (Texas).

KSU is not equipped to throw the ball against most teams, let alone Nebraska, so the Wildcats will rely heavily upon their talented RB, Daniel Thomas, to keep this game close.

On defense, KSU should be able to force some mistakes by Taylor Martinez, who, despite his accolades from the media, is far from a finished product as a quarterback.

In keeping with the Thursday night tradition of wild finishes, I will call for the outright upset.
Kansas
State 25 Nebraska 22
Michigan
State (+5) at Michigan
I was absolutely shocked by the UW MSU game last week. Maybe the Spartans can avoid the typical mid-season swoon. I am not counting on that yet, but I do think they will compete this weekend for sure. Michigan's defense is awful, and MSU should have no problem finding the end zone. Robinson will certainly get his, leading to a high scoring affair. But 5 points seems a little high for this barn burner.
Jeremy: Michigan St. (+5)
Actually a bit surprised the Spartans are getting so many points here.

If we've learned anything about Michigan this year, its that they probably aren't going to blow out too many teams with competent offenses.

Denard Robinson is certainly explosive, and definitely deserving of the Heisman hype, but the defense is still atrocious, and Kirk Cousins will be able to move Sparty at will through the air.

I think Robinson has one more late rally left in him, but MSU covers on the road.
Jimmy: Michigan State (+5)
When do the wheels fall off for Sparty?

Will they at all?

After this week, two road trips (Iowa and an overrated Penn State) stand between them and an improbable BCS trip thanks to a Buckeyes-less schedule.

But they have to get by their in-state rival first.

Michigan has plenty of losses due them as they've been playing with house money for a few weeks.

This will be the best defensive unit Shoelace has faced.

We'll find out if Greg Jones is everything he's cracked out to be if he can shadow and mitigate Robinson's effect on the outcome.

This should be a great game and I'm siding with State, more out of spite than anything.
Michigan
State 37

Michigan 31
Matt: Michigan State (+5)
Someone has to be able to beat Michigan.

They are a one man team!

Their defense is awful – MAC level.

Indiana is probably the second worst team in the Big Ten this year and they really could have or should have beaten Michigan last week.

Prediction: Michigan ends up with 5 losses.

They are not a good football team folks.
Michigan
State 38 Michigan 35
Mike: Michigan State (+5)
Between Michigan State's excellent tandem of running backs and Michigan's Denard Robinson, the box score from this game should be packed with eye popping rushing totals (query- is there a prop bet available for o/u on total rushing yards?).

The difference, however, is that the Spartan defense, with its fine set of linebackers, should be able to contain Robinson to some degree, whereas the Wolverine defense will likely provide no resistance to Michigan State's offense.

Despite Sparty's tendency to choke in big games, I'll call for the outright upset here as well.
Michigan
State 40 Michigan 37
Alabama
(-8.5) at South Carolina
Dan: South Carolina (+8.5)
UF burned me last week in Tuscaloosa, but I'm not as convinced that the Tide is as dominant on the road yet. The key here will be the turnover margin. If South Carolina can maintain an even turnover margin, and Stephen Garcia can avoid the costly fumbles that plagued him against Auburn, I think the Gamecocks can keep this close late, with the Tide content to grind out the clock with a TD lead.
Alabama
24 South Carolina 17
I'm taking the Tide here simply because I'm terrified to pick against them.

After pulling out that big road win against Arkansas and destroying Florida at home, Bama looks like a runaway train that might not be stopped until they meet Oregon in the title game.

Wouldn't be surprised to see the Gamecocks cover, but also wouldn't be surprised by an old fashioned thumping.
Alabama
34

South Carolina 23
Jimmy: South Carolina (+8.5)
Road SEC games are dogfights, plain and simple.

Bama was lucky to escape Fayetteville with a win.

Now they face a rested Gamecocks squad looking for a statement win.

I should learn my lesson after the Tide rolled all over Florida, but I think Spurrier's team is better than the Gators this year.
Alabama
31

South Carolina 24
This could be the Ol' Ball Coach's last go-round.

South Carolina finally has a competent offense.

The game is in Columbia.

Alabama is coming off an emotional win at home and now has to hit the road.

All should add up to South Carolina shocking the world right?

Two words:

Nick Saban.

The Ingram / Richardson duo will remain too tough to tame and I think Alabama pulls away in the second half despite a monster game from Alshon Jeffery, who is the best receiver in the country IMHO.
Mike: South Carolina (+8.5)
Alabama
is the class of college football, but it is a very tough order for any team to play three top-flight opponents in consecutive weeks.

Meanwhile, South Carolina has enjoyed an off week to rest its wounds and the atmosphere at Williams-Brice should be raucous.

Carolina should be able to hold its own on defense, so the Gamecocks can win this game outright if Stephen Garcia and/or Connor Shaw can avoid turning the ball over.

In another road nail biter, however, Alabama will muster just enough offense to remain unbeaten.
Alabama
19 South Carolina 17
Dan: Florida (-7.5) LOCK OF THE WEEK
The Gators are going to be smarting after the beat down last week. Meanwhile, after betting LSU against Tennessee (Thanks Millman), I vowed never to pick the Tigers again. They were terrible! Back in the comfortable confines of Ben Hill Griffin, look for the UF offense to finally find their comfort zone. I like Florida to win comfortably.
Jeremy: LSU (+7.5) – LOCK OF THE WEEK
Ugh.

What an ugly game this should be.

Two teams living off reputations with flaws all over the place.

LSU can't move the ball and has a certifiably insane head coach with seemingly no idea how to run a football team.

Florida is young and inexperienced at all the important positions and is coming off the beating of Urban Meyer's life in Tuscaloosa.

I expect the Gators to win this game in the Swamp, but failing to cover.
Jimmy: Florida (-7.5) LOCK OF THE WEEK
Two fanbases that are grasping at air on what to think of their teams.

LSU fans can't savor any bit of their miraculous heart-stopping win over moribund Tennessee.

The Mad Hatter may have found a spark by re-inserting Jarrett Lee back into the mix.

Will a two-headed monster work?

Tough environment to find out.

Florida returns home to the Swamp a shell of their former self.

But the score could've been much different if Florida didn't shoot themselves in the foot in a myriad of ways.

Not that LSU's defense is a slouch, but those were uncharacteristic mistakes for an Urban Meyer team.

Can't expect that to happen two weeks in a row.

Florida comes out of this week feeling much better about their situation.
Matt: Florida (-7.5) LOCK OF THE WEEK
I tuned into the closing seconds of the LSU-Tennessee game last week but instead caught the last few minutes of Dumb and Dumber.

Just an absolute clinic on how not to coach your team in the last minute by Miles and Dooley.

Bottom line – LSU needed a miracle to beat an awful Tennessee team at home.

They have NO offense.

My preseason prediction that Jordan Jefferson would be the best QB in the SEC West should find a way into Conan's opening monologue because it's that funny.

Needless to say, with games against Florida, Auburn, Alabama and Arkansas still left, I don't see the Tigers enjoying this #12 ranking (which is ridiculous – did the pollsters even watch this game or see the highlights?

LSU is closer to being the 112th ranked team than the 12th ranked team in the country) for very long.
Florida
was a mess last week, and there are already cries from Gator Nation for Trey Burton to take over for the square peg / round hole QB John Brantley (sound familiar?

It's a Chris Leak / Tim Tebow situation all over again).

That is coupled with a shocking lack of talent at the offensive skill positions.

Seriously, how did Urban allow himself to have no legit wide receivers and a roster of Demps and a bunch of scat-backs?

I still think that South Carolina unseats the Gators this year in the East.
It should go without saying that this game should be low scoring with two powerful defenses and two rather inept offenses.

Still, Florida has the better offense, albeit slightly, along with the much better coach and the home field advantage.

Whether it's scoring on defense or special teams, the Gators will find a way to beat LSU and cover this spread.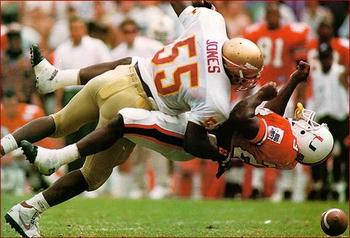 The Canes area

bit of an enigma this year (as they have been under Shannon). Jacory Harris is a big time playmaker, but still makes too many errors to be a big time quarterback. On the other side, Ponder has continued to improve and has now managed to avoid any interceptions in the past 3 games. In fact, if you drop the complete stinker at OU, Ponder has 8 interceptions and only one pick.

Now, you might argue that UM's defense is closer to OU's than the other teams on the Seminoles' schedule, but I'm not necessarily convinced. I do think the Canes have just enough playmakers on offense to get the win, but expect a few Harris errors to keep the Seminoles in the game.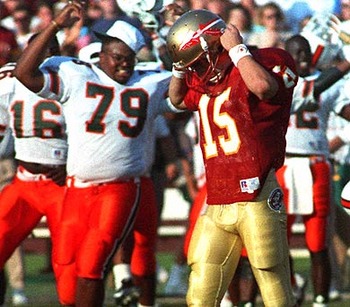 I am, however, not sold on the FSU resurgence – they looked so miserable against Oklahoma that I'm actually surprised this line isn't higher, even though it's a big rivalry game that's historically been close.

Maybe I'll get burned for starting to believe in the Canes, but I think Randy Shannon is moving this ship in the right direction, and Jacory Harris leads a late TD drive to put this one out of reach.
Quite possibly the best in-state rivalry of the past 30 years.

Without looking it up, I'd say there's more NFL players on rosters from these two programs over that span than any other pair of schools.

The spread is a little steep, especially considering the away team has outright won the last four years.

Only three times since 2000 has the margin of victory been greater than 6 points.

So from a purely historical perspective, I like the 'Noles.
It's good for college football that both programs appear to be on the climb back to prominence.

I perused a few great sites just to get my blood boiling for this game.

The Bleacher Report has a couple good articles with pictures and videos, while Stewie Mandel (Howie's long last brother) penned a solid piece this week for SI.
Florida
State 33

Miami 31
I really have no idea who either of these teams are.

Since getting worked over at Ohio State, Miami has continued their road trip and smashed Pitt and beat Clemson at Death Valley.

But are those wins really even impressive?

We're coming up on halfway through the season and no one knows how good Miami really is.

I watched the Clemson game and Jacory Harris continues to make absolutely awful decisions with the football, throwing into double and triple coverage repeatedly.

He threw for 4 TD's, but also had 2 ridiculous INT's and it should have been more.

You can't win consistently with your QB playing so recklessly.
FSU is really a mirror of Miami in that they got spanked in their one big game of the year at OU, and then have come back to win big over BYU, Wake and Virginia.

But should we be impressed by that?

Those are a collection of bad 2010 football teams.

Is this a battle of rising superpowers or just a battle of also-rans that are overranked and overhyped?
In the end, I think the combination of Harris to Hankerson continues to make sweet music, and the leg of Matt Bosher wins it.

But I really don't have a good feel for this one.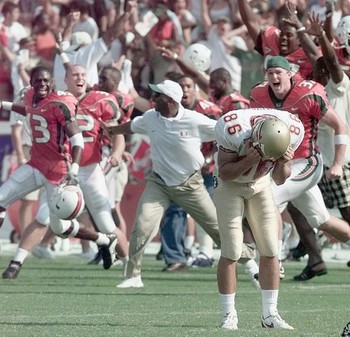 This is a tough game to call.

Miami has the superior talent and the game is in Coral Gables, but I just do not trust Randy Shannon in a big game.

I have also been impressed with Florida State's performance following its debacle in Norman, notwithstanding the weak competition (UVA and Wake), and the rivalry factor might benefit the underdog in this spot.

Since I'm picking outright upsets left and right this week, I'll continue the trend.
Florida
State 33 Miami 31
Dan:
Boston College @ NC State (-9.5)
Boston
College
is not very good. In fact, BC is just bad this year. Other than one terrible half against a "backs against the wall" VT team, NC State has looked like a pretty good football team. They definitely have some question marks on defense. But their offense is going to put up points. Meanwhile, BC still has question marks at the QB position, and ND provided a bit of a game plan around slowing down Harris. I like NC State to win this by a couple touchdowns at home.
Jeremy:
USC @ Stanford (-7.5)
This line has to be making Stanford fans downright giddy.

The Cardinal is favored by more than a TD over SC?

Crazy talk.

But I think they cover anyway – USC is frighteningly thin and incredibly soft on defense.

Even a heroic effort by Matt Barkley can't keep this game in reach.
Jimmy: UCLA (+7.5)
@ California
A little confused by this line.

UCLA clearly proved they can win on the road, and has played a solid schedule to this point.

Maybe it was their slow start last week vs. Washington State that is fooling Vegas.

Cal's lost consecutive road games to Nevada and Arizona and needs to stop the bleeding.

This has the makings of a Pac-10 thriller between two middle of the road Pac-10 teams.

It will be close, if not an outright Bruins victory as Rick Neuheisel keeps building something in LA.
Matt: San Diego State (-5)
@BYU
San Diego
State has quietly turned into a frisky team under ex-Ball State miracle worker Brady Hoke.

They have the 13th ranked passing offense and 24th ranked rushing offense in the country.

They almost pulled the shocker at Missouri, losing by three, and destroyed Utah State 41-7.

The same Utah State that just routed BYU, causing the Cougars to fire their defensive coordinator after the game.

BYU is in shambles this year, and the stats back up the ugliness on the field and off.

80th ranked passing offense.

94th in rushing.

114th in points allowed.

I think this one continues the lost season for BYU
Mike: Georgia Tech (-8)
over Virginia
I have been burned by Georgia Tech this year, but they have to figure things out sometime, don't they?

At home against an undermanned Virginia team would be a good place to start, especially considering the possible "inside knowledge" angle with Al Groh.
Georgia Tech 31 Virginia 17