Now that our spring/summer hibernation
is over, there's plenty to cover these last two weeks before the 2011 season begins. Expect a pre-season roundtable post from the guys next week, as well as the annual picks contest revving its engine.
First things first, if it's not a comeback here at WeIs ND, w
hat is it? A rebirth? A reincarnation? (No, makes it sound like one of us died).
A
Return to Glory? (Ummm, no. That one's been used and irreparably tainted
)
A revival? (Too much connotation to a religious cult, which isn't that much of a stretch when describing college football fans).
A reinstatement? (We weren't exactly punitively withheld from posting. More shackled by time constraints, though at least this has relevance to one of the off-season sub-plots).
A resurgence? Hmmm, I kinda like the ring of that. Similar to how most Irish fans think this season will build on the 4-game momentum tidal wave that finished the 2010 season.
Resurgence. Yup, that's what we hope (expect?) Brian Kelly delivers this fall and what we hope to deliver on these pages in 2011 and beyond. A few quick thoughts and images to whet your appetite for this season on the cusp.
QB Expectations
We should know next week who BK plans to go with as QB1, and we'll delve into the topic in more depth with the roundtable, but I wanted to point out that whoever gets the nod should be primed for a big season stats-wise. Hearken back to April '10, a post
meant to offer a realistic expectation for Dayne Crist in his first full year under center. In retrospect, Crist's season (in 9 games, mind you) was much better than either Quinn or Clausen's freshman years. Different circumstances, yes. But it says a good deal about Brian Kelly's effectiveness to ramp up the offensive learning curve and find more than adequate production out of his QB.
In case you don't click the link, here was the conservative estimate for Crist's Year 1 totals (an average of Brian Kelly's last three 1st year signal callers - Dan LeFevour, Ben Mauk & Tony Pike):
Crist: 227-366 (62%), 2,853 yards, 25 TD, 10 INT
Actual numbers on the season for Crist (8+ games) and Tommy Rees (5+ games):
Crist: 174-294 (59%), 2,033 yards, 15 TD, 7 INT
Rees: 100-164 (61%), 1,106 yards, 12 TD, 8 INT
Total: 274-458 (60%), 3,139 yards, 27 TD, 15 INT
First reaction - that conservative estimate wasn't too far off. Kelly dialed up a few more throws than he probably would've liked with a few too many mistakes, but pretty darn close. (If I were really on top of my game, I'd have the 2nd year numbers for LeFevour, Mauk and Pike for you along with an expected Year 2 average. But I'm like a pitcher in spring training, lengthening
my research appendage slowly for the blog season ahead).
Those totals put Quinn and Clausen to shame, even with a true freshman playing a quarter of the games. No reason to think whoever gets the nod won't improve on this, especially completion percentage and TD/INT ratio.
Welcome Faces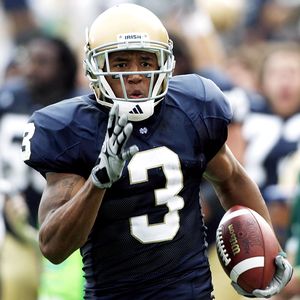 On his best behavior and motivated for an S&P AAA+ rating to boost his NFL stock, this could very well be a record-breaking season for Mr. Floyd.
With two years of seasoning under his belt, Manti Te'o is putting it all together in what could be his swan song season. The defense will go as far as this All-American heat-seeking missile LB.
There may not be too many close-up photos of a helmet-less Zack Martin this year, but I'm sure glad we have this one. Hopefully by bowl season, he's rockin a full-on duck soup 'stache.
Bowl Predictions
These always crack me up. It's not enough to venture a guess at the only 5 bowl games that matter. I'm glad ESPN gives locker room/message board fodder to the players and fans of Western Michigan, Florida Atlantic, fill-in-your-snubbed-team. The season hasn't started and already, a .500 season is in doubt, and the privilege to lose money for your athletic department and not qualify for one of the 87 bowl games.
Not to read one iota into this, the experts think Irish fans should pack their bags for either Orlando (vs. UNC - since it's bball season by then, would the Tar Heels sell even 10,000 tickets?) or Glendale (vs. Wisconsin - that would be a terrific get-together with Badger fans, though why couldn't they settle this game a little closer, say Soldier Field? There should be economic hardship bowl-venue change clauses).
Pre-Season Rankings
Not that Brian Kelly will pay a lick of attention to these numbers, but the Irish #16 (AP) & #18 (USA Today) ranks are the highest preseason ranks since 2006. It's the highest AP ranking overall since being ranked #11 Dec. 9, 2006 (a quick plummet followed a stink bomb Sugar Bowl, though Matt and Doug have foggy memories of an opposite outcome. At least their t-shirt said so. Funny story. Ask them to share it sometime).
The AP ranks 3 opponents (Stanford, Michigan State & USC, with four others receiving votes). The USA Today ranks 2 opponents (USC is banned from this poll) and four others receive votes, including South Florida.
The only meaning these rankings have at this point is the national media is warming up to the idea of ND being good and recognizing signs of progress in South Bend. Get through September unscathed and the hype machine will be running on diesel.
--------
To all those folks who checked out the site the last 5+ months only to find Mock Brey muggin with his look-alikes, we appreciate your patience and your continued support. It's good to be back. Go Irish!