Thank goodness we have some games to dissect and enjoy to take our mind off the realignment maelstorm swirling around the college football universe. But before we get there, what would another day be without a new conference applicant? Today finds East Carolina responding to the Big East's vacant bedroom Craigslist ad, hopeful they get glowing recommendations from their hostel mates in the open-door policy Conference USA.
Back to the games - four solid top 20 matchups with several other conference gut-checks. We'll learn a good deal about who means business and who's just window shopping this season. On to the picks:
Oklahoma State (+3) at Texas A&M
Dan:
Oklahoma State (+3)
Great afternoon football game, even though I am sure the announcers will spend more time talking about conference realignment (I am already so tired of this story), than the game on the field. Sherman has the Aggies rolling early this season, but Oklahoma State has had better competition so far. I will take that experience, the recent consistency of the Cowboys, and the points in this match-up.
Oklahoma State 38 Texas A&M 35
Jeremy: Oklahoma St. (+3)
The matchup of two Big XII media darlings who haven't managed to win any games of serious consequence in the recent past. Should be a fun game to watch as both teams can put up some serious offense. Even though they're on the road, I think the Cowboys have the better talent and I'm taking them to win outright.
Oklahoma St. 38 Texas A&M 31
Jimmy: Oklahoma State (+3)
I'm buying what Mike Gundy is selling. Weeden, Blackmon & Randle are pure dynamite. And the offensive fireworks will come in droves. I just don't think the Aggies can keep up, even with the 12th Man advantage in Kyle Field. You gotta imagine all Big 12 teams will play TAMU with a little extra motivation for getting greedy in jumping ship to the SEC. It doesn't matter that every other member is in panic mode looking to secure a conference safe haven. A&M is painted as the bad guy ruffling all of their feathers -- okay, maybe just Baylor.
If all else fails at halftime, Gundy can rally his team with a "Remember the Alamo" type speech to lay a final whooping on those Agriculturists and Mechanicalites on their way out the conference door.
That, or deliver the patented Gundy motivational speech. ("This was brought to me by a mother...of children" -- never gets old and you hear something new every time). I wonder how often his players cut jokes about that. I digress. Cowboys win in a shootout.
Oklahoma State 63 Texas A&M 60 2OT (why not?)
Both teams have started the season with their usual pattern of beating up on undermanned non-conference opponents. Without any true tests thus far, therefore, it is difficult to gauge whether either of these teams will live up to their considerable hype. After last year's contest in Stillwater, I was favorably impressed with A&M defensive coordinator Tim DeRuyter, who was able to slow the high powered Cowboy offense, albeit in defeat. DeRuyter should be able to replicate his effort again at home and the improved A&M offense will encounter little resistance from the Oklahoma State defense.
Texas A&M 44 Oklahoma State 28
Anytime I can get the likes of Brandon Weeden and Justin Blackmon as an underdog, I like my chances. Both guys are way too experienced to get rattled on the road, even if it is the SEC worthy, rowdy "12th man" of College Station. Texas A&M has firepower itself, but I like the Pokes in this high scoring Big 12 affair.
LSU (-6) at West Virginia
Dan:
LSU (-6) Lock of the Week
Six points is not enough. I figure the Tigers will only need couple TD to get the cover. Their defense alone might hand them that, and surely their relatively meager offense can find the endzone once or twice against a big east defense.
The Bayou Bengals have already shut down one explosive spread offense this year but this game in Morgantown could present an even greater challenge than the Ducks. I just can't pick against the SEC here.
Too many points for what figures to be a truly inhospitable atmosphere for LSU with Gameday on campus and an 8pm start. The Mountaineer faithful will be booze-fueled (and will keep fueling in the stadium) and hellbent on making Jarrett Lee's night miserable. Geno Smith will have his hands full creating offense where Chris Relf and Darron Thomas have struggled. But Smith relies more on his versatile receiver options than his ground game. Tavon Austin, Stedman Bailey and Ivan McCartney should spring for some big plays to make this an ultra-exciting contest. Still like Les Miles to pull a rabbit out of his hat in the end, but it will come down to the wire.
Having watched LSU's dominating performance at Mississippi State, it is hard to imagine that there is a better defense in the nation. Under new coach Dana Holgerson, West Virginia's offense appears to be hitting its stride, but the Mountaineers will almost surely struggle to move the ball against LSU. On defense, however, West Virginia looks to be characteristically solid with longtime coordinator Jeff Casteel remaining at the helm. I expect the Mountaineer defense to hold LSU in check, thereby allowing them to cover the spread in another tight defensive victory for the Bayou Bengals. As a final note, can you imagine the scene in Morgantown for a night game with these two fanbases? Good Lord.
Phil: LSU (-6) Lock of the Week
LSU has delievered as my lock of the week twice already this season, and I see no reason that it shouldn't continue. I was interested to see Thursday night how Miss St looked against the LSU D, hoping that it would prove Auburn's D was not so porous. Sadly, the Bullpups could barely manage a first down against the bayou bengals, and then to follow suit, Auburn's D was horrendous 2 days later at Clemson. I like Geno Smith at QB, and I'm sure Holgerson will have some tricks up his sleeve, but at the end of the day, LSU is entirely too talented, and they always get up for the big game. They will pound the rock on the ground, use play action, and I look for the return of Russell Shepherd to ignite some big plays. LSU is the real deal.
Florida State (-3) at Clemson
Dan:
Clemson (+3)
FSU feels a bit in disarray after last week's game. If E.J. Manuel doesn't play, then the Seminoles are in big trouble. Even if he does play, if his shoulder limits his mobility, FSU could struggle on this trip to Death Valley. I was pretty surprised with Clemson's performance last week, and think threaten to win the ACC this year.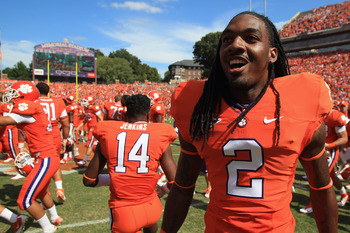 This pick is mainly based upon the assumption that EJ Manuel will be at least somewhat limited on Saturday. FSU looked amazing flying all over the field last weekend against Boomer Sooner, but this is a classic letdown game, with a Clemson team primed to make their second big statement in a row at home.
Jimmy: Florida State (-3)
From a mentality perspective, one team is riding an emotional high after knocking off the defending champs while the other is licking their wounds from a hard fought prime time loss on their home turf to the #1 team in the country. To make matters worse, FSU doesn't know how much pain QB EJ Manuel will be in as he tries to help the team in returning. The emotional component is what sets the college game apart from its pro counterpart. I don't think it can be overlooked in this game. The Seminole defense did a pretty remarkable job limiting the high-powered Sooners offense.
Tajh Boyd better not think he'll be repeating last week's career performance.
FSU should be able to contain Boyd, Sammy Watkins and Andre Ellington. This should be a slugfest, but I still like Jimbo Fisher's team to rebound on the road.
Clemson just scored an enormous win over Auburn and now they get to face a wounded FSU team that just lost a physical game during which their starting QB was injured. Will the Tigers show some killer instinct and seize control over their destiny in the ACC Atlantic Division? I doubt it. Look for Tajh Boyd to take a big step backward this week against a talented FSU secondary, which will allow the Seminoles to grab a big road win in their conference opener.
Florida State 24 Clemson 17
This is perceived as a big game, as Clemson is off a win over the defending champs, and FSU postponed its return to the top after being beaten by Oklahoma at home. Those who have visions of Clemson knocking off the Seminoles need to slow down. The ability to tackle by the Noles will be vastly better than Auburn, and I can almost guarantee that Tahj Boyd will not again look like a Heisman Trophy candidate. Although, if Clemson can pull the upset, Sammy Watkins needs to touch the ball early and often. Either way, I like the Noles.
Arkansas (+13.5) at Alabama
Dan:
Arkansas (+13.5)
This line feels just about right, and is probably the toughest call for me. Alabama may win this by two touchdowns, but in the end I just can't lay 13.5 points in a touch conference match-up like this.
Jeremy: Arkansas (+13.5) Lock of the Week
Petrino vs. Saban is always a great matchup. This is just too many points, even in Tuscaloosa.
Alabama 23 Arkansas 17
Jimmy: Alabama (-13.5) Lock of the Week
Until I see the Tide not dominate an opponent, I'm expecting the Sabanator to keep rollin. Arkansas may hang around for a little bit with Tyler Wilson's multi-faceted arsenal. But Bama can pound the ball with Richardson and Lacy and limit Arkansas' possessions. They may not
completely manhandle the Razorbacks, but they'll win decisively.
Arkansas, led by first year Tyler Wilson, has been impressive on offense in the early season, but they are about to experience an extreme class jump against the Crimson Tide defense. I suspect that the Hogs are a tad overrated and I believe that a dominating defense can take any offense out of its comfort zone, so I am expecting a major step back for Wilson and the Razorback offense this week. Alabama should be able to run the ball effectively at home as well, which will relieve some pressure on A.J. McCarron and Philip Sims.
Bobby Petrino has had this game circled since Ryan Mallet puked away his two TD lead at home for the Hogs last year. I am optimistic that he has something special planned and that he will have a good game plan upon his arrival to T-Town. This will be the best team Bama has played this year (lets face it, Penn St is brutal) and we will really get to see how good that D is, and more importantly, how good AJ McBrodieroy is. I don't know if Bobby P can get the big win on the road, but I am sure as hell rooting for him.
Dan:
Oregon (-15) @ Arizona
Contrasting directly with my commentary on Alabama v. Arkansas above, I like the Ducks in a fairly large spread to cover on the road. Oregon may have gotten manhandled against LSU, but back home on the west coast, they are in charge. Arizona is in the midst of a brutal stretch (Oklahoma State, Stanford, Oregon, USC), and has lost by an average of 25 points in the first two games of that stretch. I expect their woes to continue with the Ducks in Tucson for the rout.
Jeremy: North Carolina @ Georgia Tech (-6.5)
After a lackluster 2010, the Yellow Jackets seem to have fallen off the map a bit. Paul Johnson is still one heck of a coach, and this isn't near enough points for Tech's explosive offense at home.
Jimmy: Rice @ Baylor (-19.5)
Really like Art Briles and the Bears to keep mauling the patsy portion (TCU excluded) of their schedule. Robert Griffin III, Kendall Wright and Terrance Ganaway are a lethal trio that feasts on weak defenses. The Bears program hibernated for a looong time. Consistent offensive fireworks highlighting Heisman hopeful RGIII is the quickest way to impress voters and change the program's perception. In the process, I'm riding Griffin's coattails and enjoying fantasy stalwarts Wright and Ganaway on my squad.
Mike: Western Michigan (+13.5) @ Illinois
This is the ideal set of circumstances for a classic Zooker game: Illinois is undefeated, ranked, coming off a big win and facing a well coached MAC opponent with enough ability to spring an upset. I will not be surprised if the Broncos win this game outright.
Western Michigan 24 Illinois 23
Mike's BONUS BONUS PICKS! (Not for standings (unless successful))
Georgia @ Mississippi (+10)
Battle of two embattled coaches here. I think the Rebs will rally around the Right Reverend, Houston Dale Nutt, and play the role of frisky home underdog.
NC State (+7.5) @ Cincinnati
Another underdog play for your Thursday night. The Pack stubbed their toe in the conference opener against an underrated Wake Forest team, but they should be able to hit their stride offensively against Cincinnati.
Cincinnati 35 N.C. State 31
Phil: Vandy (+16) @ South Carolina
What a week for the Commodores! After forcefully relegating Ole Miss to the SEC cellar (pending their matchup with defenseless Auburn), they now find themselves (only) a 16 point dog to South Carolina. Progress! USC struggled with pesky Navy (I have seen that somewhere before), but ultimately had the smarts to ride the Lattimore train to victory. (wish Auburn would feed Dyer the rock like that). I think that they will take notice of Vandy's success and not get caught sleeping for the 2nd week in a row, but I also think that Vandy is not a bad team.
South Carolina 28 Vandy 21
Last Week
Dan: 2-4 (+ Lock of the Week)
Jeremy: 3-3 (-)
Jimmy: 3-3 (+)
Mike: 3-3 (+)
Phil: 3-3 (+)
Season To Date:
Dan: 9-8-1 (3-0)
Jeremy: 9-8-1 (1-2)
Jimmy:8-8-2 (2-1)
Matt: 2-4 (0-1)
Mike: 8-9-1 (1-1-1)
Phil:5-11-1 (1-1-1)