A smattering of water cooler topics to prime everyone for the upcoming college football season. The questions were so compelling that we had to break the answers down into not one, not two, but three(!) days worth of material. Hope you enjoy. Fan the flames of the discussion and let us know your thoughts in the comments or e-mail us at the address to the right.
1) How will Michigan perform this year, and who will lead the Wolverines out of the tunnel on opening day 2011?
Jeremy: Michigan might end up being the most interesting story of the season. The offense had no trouble putting points on the board last year (especially against the Irish), and the Wolverines return most of their important personnel on that side of the ball. Additionally, if you believe the reports from the spring game in Ann Arbor, Rodriguez may have finally found the Michigan version of Pat White in Denard Robinson. Robinson and Forcier should complement each other well, and there are plenty of weapons on the outside. The Wolverines do have to replace Brandon Minor in the backfield, but there are ample waterbug-types available for big-play potential. Look for Michigan to continue its high scoring ways this year.
HOWEVA, the 2010 Michigan defense could be one of the worst in recent memory. Brandon Graham and Donovan Warren have moved on, and unless some serious sleepers emerge, there isn't much starpower out there to be found. Mike Martin and William Campbell could combine for a formidable front line, but many of the same characters in the LB corps and secondary return from last year's debacle (including a few walk-ons).
Looking at the schedule, I'm thinking 6-6, with 7-5 or 5-7 as real possibilities. We'll know quite a bit about how the season will go in the first two weeks – UCONN at home and ND in South Bend. A 2-0 start could help Michigan build some serious momentum towards a bowl season and a resurrection-type season for Rodriguez. 0-2 and the wolves will be calling for Rodriguez's head mid-season. If he can get to a bowl, I think he'll be around another year. If not, I think they extend the largest olive branch in history to Harbaugh and pray that he comes home.
Matt: I think Doug alluded to this earlier in the year, but hasn't the Rich-Rod tenure at Michigan begun to feel like the Billy Gillespie era at Kentucky? I mean, there is no denying the guy was a proven winner before he got to Michigan. But for whatever reason, he just has fit in horribly. Everything about his time there…the spread offense, the lack of respect for the tradition…it all seems so, well, un-Michigan. Don't get me wrong, if he had come out and won ballgames, I think this all would have been a non-issue. But from an outsider, I kind of liken it to if Notre Dame hired someone like Mike Leach or Rick Neuheisel. Sure they're good coaches, but their kind of free-spirited and untraditional personalities just wouldn't feel right on the sideline at Notre Dame.
Is it possible that Pat White made Rod look a lot better than he was? I mean that White – Slaton combo was deadly for a few years and singlehandedly won West Virginia some huge ballgames. For all the hype about White's running ability, he could actually throw the ball and they had some big play receivers there during his time (Chris Henry and Darius Reynaud come to mind). Can Tate Forcier or Denard Robinson actually throw the ball to run a well-rounded spread offense? I haven't seen proof of it yet – and I think that's the primary reason why the Rich-Rod spread hasn't taken off like it did at West Virginia.
As for this season, to me it boils down to one game – the home opener against UConn. As every ND fan now knows, UConn is a frisky well-coached team that is more than capable of walking into the Big House and winning. If UM loses that game, then goes on the road to South Bend and loses, Rich-Rod is in some serious trouble staring at 0-2 with the Big Ten grinder still to come. They get Iowa and Wisconsin at home, but have to go on the road to a rebuilding Penn State and then close the season in the Horseshoe. I'll say Michigan pulls out an 8-4 season and saves his job with an Alamo Bowl win.
Doug: Hands down the most intriguing story of the 2010 college football season will take place all fall in Ann Arbor, Michigan. I really don't think there's a close second in fact. The winningest program in college football history is at a crossroads like they've never been at before, and I think we're going to find out very quickly in 2010 where they are headed. Back to back games against Connecticut and Notre Dame to open the season. If they start out 0-2, I don't think there's any question that Rich Rodriguez is doomed. If you can't beat UConn at home, why is there any reason to think they are making a bowl game in 2010 with ND, Sparty, Iowa, Penn State, Wisconsin, and Ohio State still coming on the schedule?? That's a 3-4 win season waiting to happen and a new coach in 2011.
Even if Michigan does come out of the first month at 3-1 or 4-0, is Rich Rodriguez going to win Big Ten games this year?? He's 3-13 in two years of Big Ten play. Is that suddenly going to change in 2010?? You can't win in the Big Ten with ZERO defense, bad tackling, bad special teams, and turnovers left and right. The Big Ten teams are just going to grind you into the ground if you try that stuff. A team like Penn State or Wisconsin or Ohio State that just comes right at you is what the Big Ten is all about. If you don't have a backbone defensively or a rugged offensive line, you're in big trouble. And if you play recklessly and put the ball on the ground, forget it.
Michigan lost five straight games to end the season in 2009 and was only competitive in one of those games. You can go ahead and say it if you're thinking it. Michigan has been the worst program in the Big 10 the last two seasons. I'm not even sure it's close.
To just make a bowl game, Michigan has to win probably 3 nonconference and 3-4 conference games. I'm not sure I even see one lock win in Big Ten play. Maybe Illinois, but they've been destroyed by Illinois the last two years. Who else?? Purdue?? Indiana?? I don't see either one as a lock.
Maybe Michigan will break out this year. Maybe they'll find a defense. Maybe Denard Robinson will be THE MAN up there. Maybe they just become a more reliable team with a year of experience. A lot of Michigan fans seem to be quietly optimistic about where this team is headed. Supposedly the team is rallying around Denard Robinson. But truthfully, I didn't think quarterback was their problem last year. I thought Forcier was actually good for most of the year. Their biggest problem was that they couldn't really run the ball, and their defense was historically bad - like guys running through paper. They gave up 30+ points in seven games last year. You can't win games doing that.
I have come to think that hiring Rich Rodriguez was the wrong move, and that the situation is unredeemable. I don't think he can win a Big Ten championship at Michigan, he's not recruiting that well, and he's a walking controversy everywhere he goes. What's the point in playing around with keeping him?? Michigan should get back to what Michigan football is all about. Great lines, tough as nails front 7, big armed pro style QB, and great skill players. Lloyd Carr won 9-10 games a year with that fomula even though he was getting old and worn out in his last 4-5 years there. With the right coach, they can get back to where they were and probably more.
That's why I think Michigan will go to Jim Harbaugh after 2010 and make the Godfather offer to get him to Ann Arbor. He's the perfect fit for that job, and the sooner the better. If they go 7-5 and stick with Rich Rodriguez, it's prolonging the inevitable. Recruiting will tank, and he'll be a dead man walking. If you can't win in three years at a place like Michigan or at least have an absolute slew of stud recruits in the pipeline, it's never going to happen.
Harbaugh is the guy. He embraces the pro style, he's a great recruiter, he's got the bloodlines and NFL pedigree, he's smashmouth, and he's got the passion and fire and bravado to be another Bo Schembechler. He would call out Jim Tressel on the very first day and embrace the Ohio State-Michigan rivalry. Rodriguez couldn't be less interested in embracing the Ohio State-Michigan rivalry. I get the impression he'd rather just drop Ohio State from the schedule.
Jim Harbaugh vs. Brian Kelly would be a fascinating rivalry if we retain the Michigan series (are we sure that is the case??). Two fiery guys going toe-to-toe on everything from recruiting to media to gameday tactics.
Jimmy

:
Ann Arbor's stuck-in-the-mud syndrome isn't going away this year. While I think Dick Rod is a capable coach and will find success at his next stop, fate has frowned on his tenure. It would take a tsunami-type shift for Rodriguez to convince the fanbase (and more important, the UM powers-that-be) that he can rise to Michigan's standards. Anything short of 8 wins should be lights out for the R.R. Era. In a way, Michigan fans should hope the end comes soon in hopes to lure Jim Harbaugh back to his alma mater before the NFL lures him away from Palo Alto. Michigan is probably Harbaugh's only destination job in the college ranks.
2) Thoughts on the post-Tim Tebow era at Florida. Business as usual or a step back?? Do you think Tebow made Urban or Urban made Tebow??
Jeremy: Someone from NDNation clipped and posted the 1st series from the 2000 Stanford game the other day. Why is this pertinent? If you watch the clip closely, you'll see a young Urban Meyer stalking the sidelines and congratulating Matt LoVecchio after the freshman led the Irish right down the field to score on the first possession of the game. Meyer famously scripted the first drive, which didn't at all resemble any previous iteration of a Bob Davie/Kevin Rogers offense. During the drive, Meyer and LoVecchio show flashes of what's become the famous Urban version of the spread – some read option, QB runs/draws, quick throws, etc. Granted, this was a Willingham/Baer Stanford defense, but LoVecchio (a lightly recruited QB making his first collegiate start) went through it like a hot knife through butter.

If this clip tells us anything, its that Urban can turn anyone into a serviceable QB. And John Brantley was one of the highest rated signal callers in his HS class. We might not see as many QB sneaks with Brantley, but I have no doubt that Meyer will have the Gator offense running on all cylinders by mid-October. Although Tim Tebow may have been a perfect fit for his offense, Urban Meyer is the one who makes it all click. I don't think they're going to miss a beat.
Matt: At this point, don't you kind of have to give the benefit of the doubt to Urban? I mean he's won everywhere he's been, with all kinds of talent around him. On the other hand, he has ALWAYS had a great QB to go along with him. Even at Bowling Green, Urban was working with Josh Harris, who was an incredible dual threat QB and had a few years riding pine in the NFL. The flip side is that Harris never latched on in the NFL, and obviously the trials and tribulations of Alex Smith in the NFL have been well-documented. So the question is posed, does Urban make the QB or does the QB make coach look good.

If I learned anything in business school, it's the value of the two words: "it depends." You can look at the question either way and justify it. Urban gets the best out of his quarterbacks in a stat-friendly college system that appears to leave the guys unprepared for a bright NFL future. I mean the people who could look at tape and say that Tim Tebow was more NFL-prepared than Jimmy Clausen was are nuts. JC made all the throws you need to make in the pros, while Tebow was bulling people over like he was Jerome Bettis and throwing those ridiculous jump passes. If you want to project Tebow long-term, or you value his versatility, that's fine, but don't say with a straight face that he is a better pro prospect than a guy like Clausen.

On the other hand, there is no denying the pure talent that Meyer recruits at QB, guys who fit into his system. That's why this year will be interesting because John Brantley appears to be a more traditional QB who will look to pass more than run. I say it's business as usual for Florida…Urban is too smart a coach to not adjust the offense to get the most out of Brantley's talents. And they still can out-athlete most teams they play on both sides of the ball. They might not be a national championship contender with road trips to Knoxville, Tuscaloosa and Tallahassee, but I smell another SEC East banner.

Doug: Urban Meyer's greatness in college football can be summed up in two words: Alex Smith. Look no further than that to get a feel for why Urban Meyer has won 2 national titles and a slew of BCS bowls/conference titles, etc in a very limited time span as a head coach. He turned Alex freaking Smith into the #1 overall pick in the 2006 NFL Draft. One of the more bizarre picks of all time in retrospect. A guy who had one huge year under Urban Meyer and parlayed that into a $50 million contract. More power to him, but that pick was insane. He was just some dude who got great coaching and played in an offense conducive to his run/pass skills. He should write Urban Meyer a thank you letter once a week for coming into his life when he did.

Assuming Urban Meyer is healthy and motivated (more on that in a second), there isn't even a doubt in my mind that the Florida Gators are going to remain a dominant program. The guy is 57-10 in five years at Florida with three 13 win seasons. He won a national title with Chris Leak. He went 22-2 at Utah. Why would anyone think he's not going to win big without Tim Tebow?? I keep reading these "Tebow made Urban" kinda articles/posts, and they make no sense to me.

Is Tim Tebow a legend at Florida?? Without a doubt. "The Promise" is on the wall of their stadium. He's just about the perfect fit for that offense with his running and passing skills, and his leadership skills are borderline messiah-like. But the machine will go on. Florida has great athletes up and down their roster. Urban Meyer has won with offense, defense, and special teams. It's not like they have just been winning with offense. If anything, they're better defensively and on special teams than they are on offense.

Urban Meyer's secret is an obsessive attention to detail. Florida wins because they have great athletes who tackle really well, don't miss assignments, block, take care of the little things, and play with great intensity. Watching them the last few years is really remarkable in the way that they just are relentless in attacking you.

The ONLY thing I would throw out there that gives me pause is that Urban Meyer loses his edge because of this health/nervous breakdown stuff. He is wired so tight that he really can't be this relaxed, mellow guy. If he tries that, then he's not Urban Meyer. It's like Tiger Woods. Tiger has to be "super intense, live hard, play hard, practice like an animal and be super competitive about everything from golf to gambling to women" Tiger to be a champion golfer. Anything less, and he's just another guy out there on tour. Same with Urban. If he tries to dial it back, it won't work. So that could be interesting. Guess we'll find out this year how he approaches things.

Jimmy: I expect a small step back for the Gators because Tebow's leadership at the most important position was out of this world. It permeated through the whole team, without question. But talent flocks to Gainesville like the salmon of capistrano. Urban need not worry. He's proved he can build winners with multiple QBs (see: J. Harris, A. Smith, C. Leak). 'Bama is ahead of them in the SEC, but that's probably it. Florida probably just misses out on a BCS game because of a couple close losses, but punishes whichever school they face in a New Year's Day bowl.

3) Who do you like the most as an NFL QB prospect: Jake Locker, Ryan Mallet or Andrew Luck??

Jeremy: At gunpoint, I suppose I'd go with Locker, but I don't feel terribly confident about that pick right now. Another year with Sarkisian should help immensely, but he's still pretty rough around the edges, and his completion %'s aren't anything special. But he's better than the alternatives – Mallett's got a cannon, but a ten-cent head. What has Luck done to garner all this hype? He's got great size and a good arm, but he spent most of last year turning around and handing off to one of the best RBs in the country.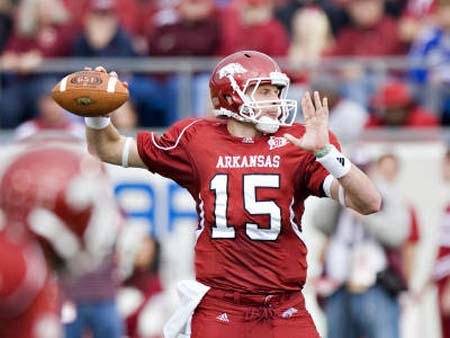 Matt
:

I've got to be perfectly honest.

Andrew Luck is a complete unknown to me.

I guess the guy was ok against ND last year, but my lasting memory of that game was Toby Gerhart tearing up the ND defense, not anything that Luck did.

(Looked it up – 0 TD's, 0 INT's).

Outside of that, I haven't seen him play.

I'm just skeptical that he could be another Trent Edwards, so for now I'm going to leave him out of this discussion.


So now the question is Locker vs. Mallett.

And the answer is clear as day.

Ryan Mallett, Ryan Mallett, Ryan Mallett.

He is the traditional drop-back pocket passer that thrives in the NFL.

Seriously, when was the last dual threat QB that has thrived in the league?

Michael Vick?

I don't know, maybe I'm overstating it, or underestimating Locker's ability.

But it seems like every Locker highlight I saw he was making plays with his legs, not his arm.

He threw 22 td's and 11 int's last year.

Decent, but nothing jaw-dropping.

I'll admit that I haven't seen enough of Locker to buy into all the hype that he is the #1 pick, but if you're forcing me to pick, I'll go Ryan Mallett


Doug
: Well, I'm torn on a couple of these guys, but not all three. I'll eliminate Andrew Luck for one reason. I don't know anything about this guy!! When did Andrew Luck start getting so much hype?? I don't even remember him at all last year, and ND played Stanford and gave up 45 points to them. I admittedly had a few cocktails in me that night, so I went back and looked at the box score to see how Andrew Luck performed:


14 for 20 for 198 yards, 0 tds, 0 INTS.


I know Toby Gerhart destroyed us that day, but those are really pedestrian numbers. In fact,

Andrew Luck's numbers

are pretty pedestrian all the way throughout the year. I'll n
eed to watch this guy in 2010 more closely to see what all the fuss is about. Kiper seems to think he could be the #1 overall player. I'm cautious about him for now.


I really enjoyed watching Ryan Mallett and that Arkansas offense last year, and I think he is going to have a monster year in 2010. I could see him throwing for 4000 yards with 40 touchdowns or something like that. Flat out crazy numbers, and a fantasy superstar. But I don't really know much about his makeup or personality, so I'm not sure what to make of him. Is he a leader?? Or the next Ryan Leaf (maybe it's just the Ryan thing). I need to watch him more this year.


I guess I'll go chalk here and go with Jake Locker just because I was impressed with hi
m against
ND last year (note that people said this about Jamarcus Russell, so that could be a bad sign). I just liked how he carried himself, and I thought he made a ton of big plays against us. He also made some great plays where guys dropped balls right in their hands. His INT numbers worry
me I guess, but I like Steve Sarkisian as a coach. I said last year that Locker reminded me of the right-handed Mark Brunell. A really strong guy who can move but also can throw accurately. I consider that comparison to be a compliment as a Bengals fan who watched Brunell a lot back in the 90s.


Jury is out on this question though for me. I'm glad we get another year to watch them before the NFL Draft.


Jimmy:
I'm feelin' Luck(y). Great QBs have a name and vibe to them & Luck has that intangible in spades. He's got an excellent mentor in Captain Comeback bringing him along. He's only a sophomore, so by the time he enter the NFL, he could be special. I like the moxie of Locker and his tutelage under Sarkisian. It's not a stretch to see him as a decent starter in the league, but he didn't make the jump from '08 to '09 that I expected. Mallett has the prototypical frame of a stud QB, but what he has in arm strength he lacks in leadership and managing a game. I think he'll fare better than OfftheMarcus Russell, but that's not saying much. His best case scenario is a
Jeff Georgian career
, if he can grow the requisite
'stache-mullet combo
.


4) How did you feel about conference realignment? What conferences/schools benefited?? Do you think this is the end?? Will the Big 12 exist in five years??


Jeremy:
I could really care less, as long as ND stays out of the mess.

Nebraska probably benefited financially and competitively, but at what cost?

They've lost the natural rivalries with Oklahoma, Texas and all the other Big 12 teams and the fanbase is going to have to do some serious traveling to get to these away games.

But I do imagine the Big Ten Network money will probably help ease the transition, and if the conference is divided as many are suggesting, Nebraska should have a relatively easy road to the conference title game.


The biggest winner was probably Texas, who solidified their standing as the biggest of the big dogs in college football.

The Horns and the Irish appear to hold all the cards in the realignment game, and its tough to see too many (seismic) changes happening without those two folding their respective hands.


Matt
:

The whole business of conferences going after schools for their geography rather than performance is a little unsettling for me.

I mean the Pac-10 was slobbering for Colorado not because of anything they've done on the field (for the most part they've been dreadful since the turn of the century), but because of access to the Denver market.

Umm, ok I guess.

Texas A&M was reportedly being courted by the SEC.

What??!!

That is a second tier program that isn't even close to top dog in their own state, but it would give access to the football hotbed of Texas for the SEC.

I mean, we all know that college football is a business first and foremost, but this whole conference business was just an eye-opener into how much college football is not about celebrating amateur athletes and more about making dollars for the suits.

With that said, I think there were a few clear winners.

The biggest is Utah.

I mean, they have parlayed a nice little seven year run into a place in the Pac-10, where they are now seated with the big boys.

I think the Pac-10 as a whole is a loser though.

They went from pulling off a coup of stealing Texas and Oklahoma to a respectable Utah team that lacks national cache, and Colorado, who appears to be going nowhere fast.

I like what commissioner Larry Scott is trying to do with the league, with the rebranding and the new logo and the coaches all meeting in New York City, and with a new television package the conference could be headed for bigger and better things.

I'm as big of a college football fan as any, but I hardly know anything about the Pac-10 teams outside of USC.

They're just never on the East Coast, unless Oregon State or somebody like that is playing the Thursday night ESPN game.
I'm reluctant to put Nebraska into the winner column as a lot of people have done. Ok, so they felt overlooked in the Texas-centric Big 12. But is the Big 10 going to get them any more respect. When people think Big 10, they think Ohio State and Michigan and more recently Penn State. I guess they have a nice natural rival now with Iowa, but I don't know what the move really did for them. Seems lateral to me. (And please no BS about the academics, etc. Blah blah blah. This was a football / revenue move, and even if academics did enter into the equation in some small percentage, I could care less.)

Doug: I think the big winners are ND and the Big 10. For ND, the status quo is to our benefit. Independent in football, NBC contract, and Big East for other sports. As long as we stay independent in football, I don't care that much about anything else. I wavered on this subject for awhile, but I've come to believe that our entire identity is wrapped around our independence: our fans, our national profile, our national recruiting, and our ability to schedule marquee games around the country. Without independence, none of that exists.

I also think the Big Ten came out like bandits in this thing. Are you kidding me?? Nebraska?? I almost feel like people are underselling this. Nebraska is a huge addition to the Big Ten. One of the 10-15 most prestigious programs. Sure, they are a Midwestern program and may not have the naturally huge recruiting base that some other powers have, but it's still Nebraska. Players are going to want to go there because football means so much to that community. As long as they spend the dollars on recruiting and developing relationships, Nebraska will remain a strong program. Their fans are second to none in the nation. People in Big 10 country are in for a shock when 25,000 Nebraska fans try to take over their stadium and the Big 10 championship game in a couple years.

Speaking of the Big Ten championship game, that's another big plus for the Big Ten. How great is that going to be?? For a guy living in Ohio, I'm really excited about it. I'm already tentatively penciling myself (ok, pen) in to go to Indy next December for the first Big Ten title game. I think that would be a blast in a great "big event" town. It's about time the Midwest got a big championship game showcase like this.

I also feel like the Big Ten dealt a huge blow to the Big 12. The Big 12 has lost a considerable amount of prestige. No more Big 12 championship game, no Nebraska, not as much depth in the league, fewer media markets. The Big 12 has basically become a Texas-dominated league. Nothing wrong with that, but they are even more regionalized than they were before.

If anything, that's probably why Texas reached out to ND about a series. We offer them a national stage that they aren't going to get too often in the Big 12 anymore.

I also think the Big 12 is here to stay for awhile. Where else are Kansas and Iowa State and Kansas State going?? Even if they are getting table scraps from Texas, it's still better than joining the Mountain West or the WAC. They will probably cling for dear life to this league. The only way it breaks up is if Texas bounces, and Texas has too good of a situation to do that any time soon.

Jimmy: Realignment was inevitable as greed dictates these decisions more than anything. At least the moves made sense for the most part. Nebraska's a good conference fit for the Big 10. Utah and Colorado are solid state school additions to the Pac 10, though the 2 divisions disrupts a good thing with all conference teams playing each other. I like the Big 10 initiative to play 9 league games a year. The Big East is unsustainable - I expect that breakup to start another domino effect in a few years. This is just the tip of the iceberg in terms of money-grabbing "non-profit" universities jockeying for position in the ever-growing goldmine that is college football. In 10-15 years, the conference landscape will be radically different.


5) Who is your sleeper team in 2010 that is flying under the radar, but could end up a top 10 (top 5?) team??
Jeremy: I don't think they're going to make it into the Top 10, but the Middies could be a Top 20 team by the time the Irish roll into the Meadowlands towards the end of October. Ricky Dobbs runs the option as well as anyone not named Tommie Frazier. The schedule doesn't provide too many opportunities for big wins, but victories over Wake and Maryland could allow Navy to sneak into the Top 25. What a story!!

Matt: I really thought hard about this one, and I was looking for a few things. Do they have a solid QB coming back? Is the schedule manageable? How was the defense last year? With that being said, my two sleepers for 2010 are…

South Florida. Shocker I know, as anyone who knows me is aware that I have been on the USF bandwagon for a few years. But hear me out. I was a huge Jim Leavitt fan, and think he probably got a raw deal, but I see no drop-off moving to ol' Skip Holtz. I mean Skip turned around East Carolina, which is an incredibly tough place to win. USF has the always exciting BJ Daniels back at QB. I swear, that guy is just dripping with God-given ability. I watched a lot of their games last year, and he made some incredible plays with his arm and legs. Threw for almost 2000 yards and rushed for over 1,000 in his first year as a starter. So the QB position is in solid hands.

The USF defense ranked a surprising 24th nationally last year, so they should be ok in that department despite losing manchild Jason Pierre-Paul (watch out for that guy in the NFL). Plus, that roster is just oozing…um athleticism…and dreads and tats. You get my drift.

And finally, the schedule. The nonconference is three cupcakes and a biggie. September 11th, in the Swamp, against the mighty Gators. Wow. You better believe I'll be in front of a TV for that one. No better chance to make a national statement early in the season. Kind of like what they did against Auburn a few years back when they made that run all the way up to #2 in the country. After that game, there are road trips to Morgantown, the Queen City and Miami, so in no way is the schedule a breeze. But there are chances to win big games.

South Carolina. Hold your laughs please. Sure, I know this one might be a little out there, and by sleeper I don't think I mean that they will be a Top 5 team, but the opportunity is there. First of all, Stephen Garcia is still there for what seems like his 5th season even though he's only a junior. He wasn't great last year, but still has that potential as a big time though oft-troubled recruit.

Second, the defense was a stellar 15th in the country last year, often times keeping them in games they had no business winning, namely against Alabama and Florida. And in all likelihood, this is the swan song for Stephen A Spurrier, so maybe there is a little extra motivation there. Home games against Georgia, Alabama, Tennessee and Arkansas certainly give the Cocks a few chances for some marquee games. Road trips to Auburn, the Swamp and Death Valley (Clemson) certainly give them a chance for this prediction to look foolish.

(Side note: Isn't it odd that there are two stadiums known as Death Valley? I did a little research to see whose was named first, and there is a bitter discrepancy between LSU and Clemson fans. Depending on who you believe, Clemson appears to have had the nickname first, with the coach of Presbyterian College bestowing the Death Valley nickname in 1948 because his teams routinely got walloped there. Later, LSU fans began calling Tiger Stadium Deaf Valley because of how loud it was, but it morphed among writers and tv people into Death Valley. However, according to LSU and their message boards, the Death Valley nickname at Clemson didn't stick until the '60's, when Coach Frank Howard had a rock from the actual Death Valley in California installed outside the Clemson locker room – what is now known as Howard's Rock. By then, according to LSU, the stadium in Baton Rouge was already firmly entrenched as Death Valley. So who knows…)

Doug: I'll start with an overrated team: Iowa. Mark this down. Iowa will underachieve this year. They had a slew of close calls last year, and I see that coming back to bite them. I don't trust Rickey Stanzi in the slightest.

I also think Pitt will underachieve. Nice team, but I think they are a little overrated. New QB (admittedly Bill Stull was horrible), they replace some big uglies up front. People are hyping up Pitt this year, but I could see them at 2-3 after five games. BRUTAL nonconference schedule. @Utah, Miami(FL), and @Notre Dame. Yikes!

Here's my super sleeper:
The Florida State Seminoles

Just got a feeling that Jimbo Fisher is about to restore the luster in Tallahassee this year. Florida State's offense was actually really good last year, and I think Christian Ponder could be a major sleeper Heisman candidate. Vegas Insider has Florida State at +-8 wins this year. Tough tough schedule with @Oklahoma, @Miami, and Florida on the schedule, but I could see them getting the "over" there. In fact, they are the one team I could see coming out of nowhere to be a top 10(5?) team.

If you watched Florida State's bowl game against West Virginia this past year, you could see the formation of a team that might come charging out of the gates in 2010. I was impressed with them. Honestly, it would not shock me if Florida State went to Norman and knocked off the Sooners in week 2.

Florida State has always had the talent. They bring in top 10 recruiting classes every year. Jimbo Fisher is recruiting like crazy already, and it looks like they might be back on the upswing again soon. If Randy Shannon doesn't deliver this year, Florida State might blow past Miami for ACC supremacy going forward.

By the way, September 11 is just an incredible day of college football. Look at these matchups:

South Florida-Florida
Florida State-Oklahoma
Miami (FL) - Ohio State
Notre Dame-Michigan
Oregon-Tennessee
Penn State-Alabama

Are you kidding me?? That is as good a collection of nonconference games as I've ever seen in one day. If you're really feeling frisky, throw in USC-Virginia at 10:30pm. Might be watching that late into the night at Between the Buns.
Jimmy

:
A couple shots in the dark. I like UNC to contend for the ACC title. Butch Davis has playmakers on both sides of the ball. A stout defense that ranked 13th overall in scoring against is anchored by Marvin Austin and Robert Quinn on the line. A capable offensive attack led by T.J. Yates complements them. Look for Greg Little to emerge as a deep threat, ala Hakeem Nicks. The Tar Heels start with a bang against LSU in Atlanta and follow it up with Georgia Tech at home. We'll know right away if they mean business.

I also like Wisconsin. Led by a veteran QB in Scott Tolzien and Big John Clay acting like Ron Dayne incarnate, the Badgers are a sleeping giant. Granted, they're ranked just outside the top 10 to start so they're not exactly sneaking up on people, but they still fly under the radar on the national scene. They get the Buckeyes at home in prime time and don't have Penn State on the schedule. Send the Grateful Red spilling into the streets of Madison with a rousing victory (and avoid a letdown the following week at Iowa) and the Bret Bielema could cannonball into the BCS pool.
Part 2 to come Friday...