6) What do you consider to be the best college football head coaching job in America these days??
Jeremy: Florida and USC are up there, but for my money, it doesn't get any better than Texas. Many people consider recruiting to be the toughest and most important part of college football, but Mack Brown is basically done with that aspect a full year before Signing Day. NCAA rules allow formal written offers to go out on September 1, and after a few "junior days" in January, Brown has 16-20 guys (almost all from talent-rich Texas) verballed to the Horns. Sure he might lose one or two along the way, and maybe he's recruiting some of these guys too early and missing out on some late bloomers, but what a huge advantage. Plus, if he feels the facilities around Royal Stadium are slipping a bit, he merely has to snap his fingers and a brand new players' lounge or giant Jumbotron will pop up.
The uncertainty surrounding the Big 12 hasn't diluted the brand power of Texas at all. If anything, losing Nebraska has now made the path to the Big 12 title game even easier for the Horns. And if the Big 12 does eventually fold, there's no doubt that Texas will land on their feet somewhere.
Matt: Texas. To me, this came down to Texas and Florida. But as we saw in all the conference alignment talk, Texas really is in a coveted and powerful position. I mean they were basically dictating the terms of how everything was going to go down. On top of that, they have incredible facilities, a great town, and they are the undisputed king of football in the football rich state of Texas. I thought about Florida, because like at Texas, Urban doesn't even need to leave the state to recruit and these days the program kind of sells itself. But with up and coming competition from FSU, Miami and even USF, the battle for in-state talent has heated up a little bit. In Texas, they basically hand pick the guys they want and then let the rest of the country scrap over who is left.
Doug: Truthfully, I thought about saying USC here because I still think USC is the most glamorous program in college football. The talent in Southern California, the national profile, the Hollywood scene, the LA market, the lack of an NFL team in SoCal, the big ND game on the national stage. I mean, even though they might go through a really rough spot here, isn't the head coach at USC just a monster platform?? You get incredible talent, great skill guys, great QBs, great weather, and a big national spotlight. With the right coach, it's just a killer job.
I also thought about Florida here. There's just so much elite talent in Florida, it's an SEC job, super passionate fans. Florida has been such a great program for the last 20-25 years.
I even gave consideration to Notre Dame. Say what you want, but I still think coaching at ND can be the best job in the country if you can do it the right way. No coach gets more attention than the ND coach. Look at ESPN. They've been airing all kinds of Brian Kelly stuff all offseason even though we've been 15-21 the last three years. Maybe ND is a dinosaur, but maybe it's not. If ND is truly a sleeping giant that can be awoken by the right coach, it's a great job.
I'll go with Texas though. They have 22 commits already. They're done! Heck, they were done in like April. They are the undisputed king of one of three best high school football states in the country, they are a cash cow in a huge state, Austin is a great town, you got major media markets all over the place, and their fans actually have a good reputation for being extremely devoted but not as cutthroat and demanding as some other fanbases. Only thing that holds me back is that they are so regional down there, but who cares?? You can win the Big 12 every year, have as good a collection of talent as anyone in the country, and play for the national title.
Jimmy

:
Goin' Robert Frost on you guys. This road less taken suggests Boise State might have
stealthily become the best gig in the land. For one, places like Texas, Alabama and Florida have immense pressure to meet high (often times unreasonable) expectations year in and year out. Coaches are under the microscope to churn out great, championship-caliber seasons, not merely good seasons. Meanwhile, away from the frenzied media glare in the cozy hamlet of Boise, Idaho, the Broncos have enjoyed a measure of success that's difficult to match over the last decade.

7 straight WAC Championships, dating back to 2002, and 2 Big West titles before that in '99 and '00. Since '99, Boise St has lost a total of 5 conference games. Their home record in Bronco Stadium over that same period is an astonishing 64-2 (Yes, I realize no power conference teams in their right mind are clamoring to square off on that imposing blue turf, but that's an impressive mark regardless). Building on the foundation laid by Dirk Koetter and Dan Hawkins, Chris Petersen has established a remarkable program that's become the nation's darling. He's 49-4 in 5 seasons at the helm with two Fiesta Bowl feathers in his cap and a pair of top 5 finishes.

Boise St. joins the Mountain West next year in their swift ascent up the power conference ladder. They're not afraid to play anybody, beefing up their non-conference slate to compensate for the dearth of MWC talent. They've become the Gonzaga of college football, a west coast hidden gem that still surprises people. Because they're well-coached, they win every game they should and enjoy taking their best shots against top teams. There's zero shame if they fall short against the Virginia Techs & Oklahomas - they're
supposed
to lose. But when they win, it's huge news. They may not draw the daily (hourly? minutely?) attention the usual suspects attract, but that's not a bad thing. It means Petersen has more time to do his job and keep finding ways for David to beat Goliath, even if this David squats 500 lbs. and has a 42 inch vertical. Not a bad gig, I say.


7) Will USC remain the power program in the Pac-1o over the next five years under Lane Kiffin?? If not, who??
Jeremy: I'm pushing a serious stack of chips to the middle on Chip Kelly and the Ducks. He got off to a rough start last year, but sure enough, by the end of the year, Oregon looked like one of the best teams in the country. And many people have already penciled them into the BCS title game this year. Belotti built one heck of a foundation in Eugene, but Kelly is the guy to get the Ducks over the hump and consistently into the national title picture year in and year out. I think Sarkisian is going to do some special things at Washington as well.
I'm loving the conspiracy theories surrounding the SC program right now. For example, Haden quietly pushing for Kiffin to be hired as HC, so that Haden (as AD) could then turn around and clean house after one year under the guise of "reform." I don't believe that the Trojans are going to fall apart, but even that program can't keep up the pace with all those scholarship reductions. The next few years in Troy are going to be very interesting.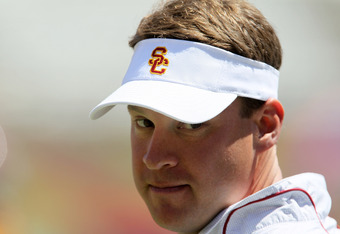 Matt: I think the days of USC being a national championship contender every single year could be done for now. Part of the allure of USC was their Hollywood status, and I don't think new AD Pat Haden wants anything to do with that. Just from hearing him on ND broadcasts and the fact that he is a Rhodes scholar and big time lawyer, I get the feeling that he is going to run a squeaky clean ship. No more of guys being bigger than the program and Snoop and Will Ferrell yukking it up on the sidelines.
The other part of the equation is that Lane Kiffin is a huge unknown. He can't get out of his own way, and this has been going on for a few years now. The latest blowup with USC alum and universally respected Jeff Fisher is just another black mark on his somewhat tarnished resume. And on top of all that, the GUY HAS NEVER WON ANYWHERE! So forgive me if I take a wait and see approach before I declare that the Trojan dynasty will just march on under Kiffin's watch.
Doug: No. I can't see USC having another Pete Carroll type run under Lane Kiffin. I think he'll recruit well, probably have good defenses, but they won't have that aura and magic that Pete Carroll's teams did. Kiffin is a poor man's Pete Carroll. Maybe even a homeless man's Pete Carroll. Even though he has put together a good staff with Ed Orgeron and Monte Kiffin, you need that straw to stir the drink.
Plus, the probation will probably be damaging over time. Once you start losing numbers, it takes away from the "culture of competition" and all that. I see USC being much more up and down under Kiffin. Probably in the 8-9 win range with maybe a Rose Bowl in there somewhere, but also easily capable of being a 5-6 win team as well.
I think the Pac 10 is going to muddle through another decade like the 90s where no one takes the crown for any extended period of time. Maybe Oregon, maybe Washington under Steve Sarkisian, maybe UCLA makes a push, maybe Stanford if Harbaugh there. It seemed like the Pac 10 had a new champion every year in the 90s, and that's how I see this going in the Pac 10 starting in 2010.
Ultimately, the Pac 10 needs USC to be USC. This is not good for the Pac 10 for USC to be down. Maybe for a little while because new programs rise to the forefront, but USC is the anchor program in that league. If USC isn't relevant, people don't really pay attention to the Pac 10. Imagine the attendance for an Oregon State-Stanford Pac 10 championship game in a couple years if you put that thing in Phoenix or San Diego. Look out. That would be ugly in epic proportions. Getting these small Pac 10 fanbases to make plans to travel across the west in the span of a week is not conducive to big crowds at neutral sites.
I expect USC to resurrect, but not in the Lane Kiffin era. Always good to be "the guy after The Guy."
Jimmy

:
As our generation's king of pop so eloquently stated, "
What goes around comes back around
." USC is getting their come-uppance for their renegade ways (Are there other renegade programs out there? Yes, but none flaunted it as brazenly as the Trojans for the last decade). Lane isn't going to like being the fall guy (again) for a California team, but karma likes to have the last word. I don't see a fairy-tale ending to his tenure (though he'd be hard-pressed to top this level of acrimonious departure -
NSFW
)
Oregon is the early favorite to wrestle the Pac-10 belt away from Troy. They could very easily settle into a nice little dynasty, but I see more of a parity-driven conference over the next decade, and beyond. Utah will contend immediately upon entering the conference with Washington and UCLA in the mix at the top as well. USC will compete, don't get me wrong, but their alpha dog status has been neutered for the time being.


8) Which of these slumping SEC programs is most likely to win an SEC championship in the next five years: Auburn, Tennessee, LSU or Georgia??
Jeremy: I was tempted to choose Auburn, because I think Gene Chizik and Gus Malzahn will make beautiful music together. But they won't win this year, and I don't think Malzahn is going to be a coordinator for much longer. I'll go with LSU, because Les Miles doesn't have much of a shelf life, but he'll be leaving a pretty full cupboard of talent behind for his successor. As much as I like Mark Richt, I just can't see him getting over that Florida hump. And Tennessee is just a disaster.
Matt: Great Question! To me, winning in the next five years comes down to a few things. Is the right coach in place, and is the program already on the right path to contending a few years down the road. Obviously winning an SEC banner would mean taking out the big boys in Alabama and Florida, which is no easy task. Let's take a look:
Coaches: Two contrasting groups of coaches with the old and the new. Auburn and Tennessee are trotting out two fresh faces in Gene Chizik and Derek Dooley. They both came out of left field when they were hired, with Chizik overseeing a two year bloodletting in Ames. But he actually had a respectable showing last year and appears to have the program headed in the right direction. Dooley never really did anything of note at La. Tech – it's not like they were ever knocking on the BCS door a la Utah or Boise or TCU. But he's a young guy, and has the bloodlines, so we'll see. It just seems like that program has gotten a little out of control the last few years under Fulmer and the one year under Kiffin. Every week it seems like some guy from the Vols is showing up on the police blotter. Color me skeptical that Dooley can do anything other than challenge for the occasional Outback Bowl for the next few years.
On the other hand, we have the grizzled veterans in Les Miles and the highly debated Mark Richt. Georgia fans seem to have this notion of Richt as a classic underachiever, while most of the rest of the country thinks highly of him. I used to be in the second camp, but as the years go on, Georgia always seems to underachieve. They have never really come too close to contending for a championship. And Les Miles has seen himself go from the toast of the town with a crystal football on the trophy shelf to one bad year from being run out of town. If LSU goes 7-5 this year, there is the distinct possibility that Miles is incredibly sent packing, and I can't say I could argue with the decision.
Advantage: Auburn and Georgia
Momentum: Since the question is the next five years, I think that what trajectory the program is currently on most definitely factors into if they will be contending for a championship banner. As I mentioned above, Auburn already has a year under their belt with Chizik, and with the much-hyped Cam Newton at QB, the future appears to be improving. Tennessee is heading backwards along with LSU, while Georgia is just treading water.
Tennessee is kind of in no man's land when it comes to recruiting. The home state is a decent recruiting ground, but nothing too great. So they have to go down to Florida and battle down there, and try to mine some guys from Alabama and Georgia and South Carolina. Tough to make a living doing that. Just looking at the roster, most of the guys are Tennessee and Georgia guys – only 5 from Florida. You have to wonder how the talent will stack up in the SEC going forward. Auburn on the other hand has 14 Florida guys, Georgia has 16 and LSU has 5 while locking up pretty much everyone in the incredibly fertile Louisiana prospect base.
Advantage: Auburn
Outcome: I think this is a two horse race between Auburn and Georgia. Georgia plays in the easier division, with the only real competition in the foreseeable future being the mighty Gators (unless my sleeper Gamecocks rise up this year!). Meanwhile Auburn has to contend with Saban, along with LSU, Ole Miss, Arkansas and even a rejuvenated Mississippi State squad under Dan Mullen. If I had any guts, I would pick Auburn THIS year, as the schedule sets up pretty nicely, with the exception of the Iron Bowl being in Tuscaloosa. Other than that, somehow the only other road games on the schedule are to Starkville, Oxford and Lexington, which is as easy as they come in the SEC. The nonconference is a joke with the exception of a home game against Clemson. But, when forced to choose, I am going to go with Georgia. Just a much easier path to the title game coming out of the East.
Doug: I really can't say Tennessee or Auburn here. I feel bad for Tennessee at this point. Not only have they hired a relative no name, but they also have the lingering problems from the Lane Kiffin era. Recruiting is not going well so far from what I can see. They have 12 commits, and haven't landed a four star yet. Yikes.
Auburn had a really nice recruiting class and actually had a decent year last year, but can I really say Auburn with Nick Saban coaching in the same state?? I mean, that seems like a tough battle for Gene Chizik. I do like what he has done so far though. Top 5 recruiting class, they win the Outback Bowl, new identity on offense, several close losses that could have turned an 8 win season into a 10 win season.
LSU continues to crank out elite talent year after year after year, but I've lost the faith in Les Miles. He's lost his grip on that program, and the Nick Saban era is firmly in the rearview mirror at LSU. Maybe it's unfair to Miles, but the standard at LSU is the same standard at Alabama or Florida. Win 10+ games a year and compete for/win SEC championships. You have the talent. No state produces more NFL talent per capita than Louisiana.
My bold prediction for 2010 is that Les Miles resigns as head coach at LSU. Just feeling that coming. I see them going 7-5 this year. Sort of hope I'm wrong because I like the LSU program.
That leaves me with Georgia, and that's where I wanted to be anyway. Mark Richt is a good football coach. The guy is 90-27 in Athens. He's won double digit games in six of his nine years there. Maybe he's underachieved the last couple years with the amount of talent on the roster, but I don't think you can really jump down his throat about one down year.
I haven't really studied Georgia's schedule or their returning roster, but I think they'll be good this year. New defensive coordinator, probably a team that is chapped about how last year went, and a good coach.
In fact, bold prediction here. Georgia wins the SEC East this year.
One other Georgia note: Big fan of Geno Atkins so far with the Bengals. Could be a good DT.

Jimmy

:
I brought the expert in for this one. Take it away Madonia...
...why Auburn will win an SEC title before UGA, LSU and UT - either this year or future years to come...


"1. Coaching - Les Miles is a moron and he is on thin ice. If LSU doesnt put up big wins this year, then LSU will find themselves breaking in a new coach and coaching staff this year. Derek Dooley will be great one day, but the previous "no discipline" coaches at Tennessee have left the program with many transfers, suspensions, etc as Dooley tries to enforce his new regime. They will be set back a few years. Mark Richt is ok, but he, like Miles, also finds himself with inpatient fan base, and another waxing at the hands of Florida could be curtains.

On the other hand, Auburn is the only SEC team to return its entire coaching staff this year. Malzahn will be a hot candidate for a head coaching job at the end of the season, especially after we win the SEC title this year--but for the time being, he is light years ahead of any OC in the conference and now he has the talent to run his system.

2. Players - Auburn not only got a top 5 recruiting class last year, and set up to do it again this year, but they got players to fill needs and this coaching staff knows how to use the talent it has. Gone are the days of Tommy Tubs moronically letting studs like Ronnie Brown, Brandon Jacobs, and Kenny Irons rot on the bench for silly reasons. This coaching staff has specific plays drawn up for the personnel that they have brought in..


3. Schedule - Auburn has 4 away games - Ole Miss, Miss St., Kentucky and Bama. The first 3 are winnable and the last one we know will be close. Only tough non-conf game is Clemson at Jordan Hare. LSU on the other hand has a brutal schedule - at Auburn, UNC, Florida, Arky. Home for Bama, West Virginia, Ole Miss, Tenn. Could easily be a good team and go 7-5. UGA similar - at South Carolina, Florida, Colorado. UT could have the hardest schedule with Oregon, Florida, Bama, LSU, Florida, UGA and Ole Miss.
4. Cam Newton - this guy is a better version of Vince Young. if he can throw an accurate 7 yard quick slant, it is curtains for everyone else and we will score 50 a game. Jefferson for LSU is a bust and UT and UGA are breaking in new starting QBs.

If you cannot tell, I have huge aspirations for this year's team...i think it will all come together and we'll have the showdown of the century vs Bama the day after thanksgiving
.
"
9) Who feels like they have been in college football longer: Jacquizz Rodgers,
Noel Devine or Fill-in-the-blank Player on the Honorary Jess Settles Graduation
Track??
Jeremy: I'll go off the board and choose Greg Jones, LB from Michigan St. Guy's been the leading tackler in East Lansing for what seems like 10 years. He's spent way too much time snuffing out the Irish running game lately and I can't wait for him to get to the League (or at least out of the Big Ten).
Matt: Quizz and Devine are two great names that seem to have been around forever. I really have nobody else to top those other than two QB's: Ricky Stanzi and Tyrod Taylor. Doesn't it seem like those guys have been under center for a long time? Stanzi, incredibly is a redshirt, so we could be seeing more of him in 2011. Taylor has been starting for three going on four years, and for Hokie fans this season is his final go round.
Doug: My Warrick Dunn Award winners for guys who feel like they have been in college football forever:

Noel Devine
Jacquizz Rodgers
Tyrod Taylor
Greg Jones
Evan Royster
Ross Homan
Terence Toliver (are you kidding me?? He's still on LSU?? Verne has been saying his name since the 90s)
Armando Allen (just assuming other fans feel that way)
Jimmy

:
I'll talk more about him below, but I can't believe DeMarco Murray is still in school.
Does it have to be a player? Because the obvious answer is the old man in Happy Valley.


10) Who is your Heisman pick and a sleeper Heisman candidate(s) to watch out for?
Jeremy: I seriously considered Locker, but the Huskies are going to lose a couple games this year, and it seems that the Heisman has become simply an award for the best player on the nation's best team. For that reason, I'll go the boring route and take Terrelle Pryor. He'll be the lead horse after a big performance in Week 2 against Miami and will keep the momentum straight through a throttling of the Wolverines in Columbus on Thanksgiving weekend.
For a sleeper, give me Tyrod Taylor of Va Tech. Ryan Williams might be the more likely candidate on that team, but the Hokies could be very powerful on offense this year, and Taylor should finally realize his giant potential.
Matt: This Heisman field is wide open, with only last year's winner Mark Ingram returning from the Top 5 last year. Prepare for a screwy year of voting with it being so wide open, and the obvious thing to do is just predict a repeat winner. But I am going to go out on a limb and pick Kellen Moore from Boise State. IF they can beat Virginia Tech in a de facto road game to start the season, then Boise, like it or not, will be on the periphery of the national championship stage all year, so he will garner recognition.
Some sleepers to keep an eye out for: John Clay, RB from Wisconsin. Dion Lewis, RB from Pitt. Jacory Harris, QB from Miami. What the hell, Terrelle Pryor. And my favorite, Bernard Pierce, RB from the Temple Fightin' Owls, who are projected by many to win the MAC, an incredible feat for a team that was as dormant as possible just a few short years ago. I wouldn't be doing my duty as a native son of Philadelphia if I didn't get Pierce and the Owls some love in this preview. In fact, don't be shocked if the Owls walk into Happy Valley on September 25th and send shockwaves across the football landscape. If ever there was a time for the red-headed step child to take down the big brother, this is it, with Penn State appearing vulnerable while breaking in a new QB. I'm not calling for the upset, just saying keep your eye on that one…
Doug: In terms of a frontrunner, I'm not sure who to say at this point. I mean, I'm just tempted to say Mark Ingram because he's the lead back on a great team that loves to run the ball. Why wouldn't he just do big things again this year?? Maybe Trent Richardson will steal more carries from him, but I think Ingram will have a good year.
I'm intrigued by Mallett. Could put up huge numbers, but probably won't win. Ditto for Locker. I can't see him as a legit candidate if Washington only wins 6-7 games.
I see Garrett Gilbert and John Brantley emerging as stars this year. But probably not Heisman caliber.
Gotta throw out Christian Ponder as a sleeper as well. Throwing all my chips into the Florida State Seminoles bandwagon this year.
As far as a pick, I feel like there is one guy who has a combination of high-profile status on a top ranked team, and that's Terrelle Pryor. I honestly am not sure what to expect of Pryor at this point, but isn't there reason to think that he'll have a great year in 2010?? Look at how he performed in the Rose Bowl against Oregon.
23 for 37 for 266 with 2tds and 1INT, 20 rushes for 72 yards
Just a monster game, and he looked like a completely different player. If he's cranking out 300-350 yards of total offense a game and making big plays, he'll be right in the mix.
Pryor has the pedigree. He was the #1 recruit in the nation. You can see the talent. People are sort of waiting for him to break out. Now it's just a question of whether he can consistently perform at a high level like he did against Oregon.
Pryor was barely a functional player the last month of the season. I'm not sure he even had 150 yards of total offense in any game. His role was hand the ball off, run the clock, throw on 3rd down once a drive, and don't turn it over under any circumstance. Tressel went to what he does best down the stretch. Grind out wins, play great defense, and run the clock.
It all depends on which Terrelle Pryor we see in 2010. He's got the talent. Will he seize it?? And more importantly, will he get the opportunity?? Is Tressel going to loosen the reins and let him make plays??

Should be a fascinating season in Columbus. So much buzz around here, it's not even funny.

Jimmy

:
Can't argue with any of the names mentioned above, though I think it's a year too early for Gilbert and Brantley to make serious Heisman waves. Pryor and Ingram are probably the co-favorites at this point. A few
names not mentioned yet who should be in the discussion:

DeMarco Murray - Honestly, how many gamebreaker RBs take a 5th year? He says he's got unfinished business and is chasing 2,000 yards. With Bradford, Iglesias and Gresham out of the picture, expect Stoops to lean heavily on #7, provided his body is up to the challenge.


Evan Royster will be Penn State's go-to guy for offense as they break in a new QB. Huge numbers at a prestigious school are a good recipe for an invitation to the Downtown Athletic Club.


Big John Clay - I have an affinity for THE man in Madison. Recent history tells us it's happened before. Why not again?

A couple names filling big shoes that should have successful campaigns, but will make more noise in a couple years: Blaine Gabbert stepping in for Chase Daniel at Missouri and LaMichael James now that LaGarrette Blount is gone. He's sure to make a LaRun for the LaHeisman in 2011.


Sleeper: Case Keenum will put up the gaudy Tecmo Bowl numbers that clouded voters' judgment in the past. He'll hang around and may get a token invite if Houston fares well.


Deep-Sleeper: Michael Floyd. I said it. The man-child flashed his prodigious unstoppability for the first 2.5 games last year, sat out 5 games, then returned as if nothing happened and posted 3 100-yard games out of the last 4. Everyone is curious to see what Floyd will do over an entire healthy season. He'll draw plenty of Randy Moss parallels.
Stay tuned for the Roundtable conclusion next week...