With National Signing Day having come and gone, it's time to put a ribbon on the 2011 recruiting class and look forward to the impact that these 23 blue chippers may have on the upcoming season and years to come. In the spirit of Oscars season, we have categories for which our esteemed recruiting panel has evaluated and handed out awards. Our opinions vary, but one thing is for sure: optimism overflows for Irish fans, and this recruiting haul only reconfirms that Coach Kelly has this train headed in the right direction and picking up steam quickly. Spring practice can't get here soon enough.
Biggest Get
Jeremy: Aaron Lynch
Brian Kelly identified defensive end as a position of great need for the recruiting class, and boy did he ever deliver. I'm tempted to pick Tuitt here because guys with the body and skill to start right away as a strong-side DE in a 3-4 defense don't come along every day (especially to South Bend). But I'm going with Aaron Lynch. Not since the days of Justin Tuck have the Irish been able to boast a true pass-rushing terror off the edge. Lynch is still pretty raw, and isn't ready to become a full-time starter yet at the weak-side DE spot, but he's sure to see immediate playing time in obvious passing situations. Honorable mention to Ishaq Williams as well, who's going to be a handful from that OLB spot for years to come.
Jimmy: Anthony Rabasa
I especially love all the recruiting battles won vs. the elite programs - USC , Ohio State, Alabama, LSU, FSU and Florida. Count it a double win as you add an elite player to the mix while depriving a head-to-head opponent or fellow NC contender with an important piece of the puzzle. It's a testament to Brian Kelly and his staff that they can lure highly touted players away from the cozy environs and proximity of fertile West Coast and Deep South recruiting grounds. ND has always enjoyed a solid Midwest and East Coast base and recruiting presence, something Kelly enhances with his ties to Ohio and Michigan. More often than not, though, the difference-making players come from outside the recruiting "comfort zone," which makes their successful recruitment all the more significant.
Manti Te'o fits this description as a huge coup, not only because he's living up to his billing as the top linebacker of his class, but also because he's become an ideal recruiting tool. Kelly mentioned multiple times how important a role Te'o played in selling recruits, be it worries about religion or Northern Indiana not being an idyllic warm weather spot and the adjustment that comes with that. It takes a helluva lot more work to convince someone like Stephon Tuitt to leave Georgia and its state programs in the lurch, or pluck Aaron Lynch from the Sunshine State to South Bend's snowy state of emergency. Because of this added responsibility, the "biggest get" shouldn't be solely which player will be the best on the field, but who could also make the most impact off the field for future recruiting purposes.
The trendy stock answer to the "biggest get" is any one of the anointed triumvirate of impact rush ends, each of whom could have special careers under the Dome. Lynch, Tuitt and Ishaq Williams (who I'll fondly refer to as Steve Jobs' blueprint for the "Cat" LB, iShaq 1.0) are all terrific additions, as is the spread offense potential of Everett Golson. By this extrapolated definition of "biggest get," the most surprising, and possibly most foreboding of more good things to come is Anthony Rabasa.
Apparently he already dislikes Michigan
Stealing Rabasa from under the shadow of The U in Coral Gables was a tremendous achievement. Granted, the state of Miami's program isn't exactly a picture of stability, but FSU, LSU and a slew of other ACC/SEC schools didn't expect this instinctual defensive darkhorse to escape the Mason-Dixie line. Not only does this open in-roads to Rabasa's high school, Miami powerhouse Christopher Columbus H.S., but it also spawns another potential Te'o Effect with Rabasa spreading the good word of ND's resurgence to talented South Floridians in classes to come.
I also look forward to Mike Collins having fun with plenty of "Ruh-BAAAHSSS-UH with the tackle" calls.
Matt: Aaron Lynch
I'm a sucker for the SEC area guys. Especially SEC area guys who have SEC level talent. In recent years, guys like Lynch have been scarce on the final commit list in South Bend when the fax machine is done whirring every Signing Day. (Is there any more antiquated process in sports than requiring high school kids to have to fax in their letter? Seriously, it's 2011, this process is probably singlehandedly keeping fax machine manufacturers in business.) On the ESPNU Signing Day show they showed an incredible graphic that 72 (IIRC) of the top 150 players in the country were from SEC states. And the bulk of those guys were obviously Florida kids. It's nice to see ND go up against the consensus number one recruiting school this year in Florida State and win this head to head battle.
And of course, it addresses the most critical need of the program. No one has doubted the recruiting of the skill positions on the offensive side of the ball under Charlie Weis. Golden Tate came from Tennessee. Armando Allen from Florida. We've plucked big time offensive lineman like Sam Young and Dan Wenger from St. Thomas Aquinas, a big time program that all the big boys hit hard. But the white whale for the Irish that has been talked about ad nauseum, was the lack of SEC level talent along the D line. Brian Kelly talked about having a plan for each recruiting cycle, and it was obvious that building up the talent level on the defensive front seven was the key to the plan this year. Lynch is the biggest get, but I'm excited for Tuitt, Ishaq, Rabasa and Councell as well. And it should hearten every ND fan that three of these five guys came from SEC territory and have extremely impressive cohorts.
Biggest Miss
Jeremy: Wayne Lyons
ND's inability to draw elite safety talent to South Bend has been extremely frustrating over the last few recruiting cycles. This year, Wayne Lyons seemed the perfect ND target – a superstar athlete with great grades and all the right answers to the questions about school and his future. I suppose you can't blame the kid for going to Stanford either. The Midwest doesn't exactly seem all that hospitable right now.
Jimmy: Offensive Line
I know there's plenty of movable parts and bodies to evaluate and shuffle around positions, but on paper, there's only 3 O-linemen in this class and the interior line stable looks a little thin. One of the worst indictments of Willingham was whiffing on big uglies for a couple recruiting cycles. I don't mean to compare BK to anything Ty ever did (and I'll never ever put them in the same sentence again). I'm just pointing out that BK's recruiting philosophy depends more on molding big, athletic bodies into a position instead of getting "x" number of high school tackles, guards and centers with each class to ensure competition and aptitude. I'm confident Kelly's system will turn out fine interior linemen, but there's not immediate reward or gut feeling after Signing Day about those important positions.
Matt: Savon Huggins
If Savon Huggins was in this class, it could very well be the perfect recruiting class (ok, maybe a d tackle would have been nice too). I watched the highlight videos of Cam McDaniel, and I know that he was very impressive playing against the top level of Texas high school football, but he just doesn't strike me as a big time college running back. One of the assistant coaches in UND.com's signing day coverage said they hoped he could be a Danny Woodhead type back. Personally, and I hate to even write a kid off from a certain position before he steps on campus, but I see McDaniel as more of a slot receiver or maybe change of pace back in BK's offense. But we'll see. Two straight years without a dynamite tailback recruit though.
Honorable mention goes to the cornerback position, especially with the last minute defection of Okotcha to Oklahoma. The proven talent starts to get dangerously thin back there after this year, with Gray and D's in the Dirt Blanton moving on. And cornerback is not traditionally a position where guys can step right in and contribute. Let's hope Lo Wood can gain some experience as a sophomore and Benett Jackson can quickly learn the position. Jalen Brown, Eilar Hardy and Matthias Farley may all turn out to be answers at CB and S, but let's just be honest. Brown didn't get an offer from UT or OU, Farley didn't get an offer from any SEC school, and Hardy wasn't offered by Ohio State. The good news is that Kelly has already admitted that this is an area of need and is involved with top juniors.
Class Sleeper
Jeremy: Josh Atkinson
Before he flipped to the Sooners, Bennett Okotcha seemed like the easy answer here. But I'll stay in the defensive backfield and go with the lesser ranked of the brothers in this class, Josh Atkinson. Atkinson has good quicks, likes to be physical and has some good genes to play in the secondary (I hear his dad was pretty good back in the day). Honorable mention to Eilar Hardy who, although he's got some nice rankings, hasn't been getting much love or pub because he didn't play
in the "big boy" all-star games. Also Ben Councell, who is the prototypical "Drop" OLB in the 3-4 scheme.
Jimmy: George Atkinson III
Atkinson's speed and athleticism is legit and was recognized as such by recruiting sites, ranking him as a top "Athlete" in at least two publications. He toted the ball out of the backfield a lot in high school, but Kelly likely envisions the same jitterbugicity and elusiveness in space that Theo Riddick possesses. With Floyd, Riddick, TJ Jones, Eifert, Gray and Wood likely to receive most of the touches, Atkinson may have a quiet freshman season, provided he doesn't make a splash in special teams. But this is the kind of athlete that fits Kelly's system beautifully. I think Atkinson will become an indispensable piece of the offense, a guy defenses have to account for every time he's on the field.
Matt: Matthias Farley
BK raved about how physically impressive Farley is – commenting that he is the most ready to step on the field right away from a physical standpoint. And he's not kidding, with Farley being 6 foot and nearly 200 pounds already. A 3 star from Charlotte, Farley had offers from mid tier schools – UNC, NC State, Maryland, UCLA and Wisconsin to name a few. He's listed on Rivals as an athlete, but I think he will carve out a nice niche somewhere in the defensive backfield, most likely as a safety. He could be on the five year plan, although with the lack of depth in the defensive backfield I could see Farley as a special teamer and possibly get his feet wet on defense this coming season.
Most Likely to Make Immediate Contribution
Jeremy: George Atkinson III
Guys like Lynch, Williams and Tuitt are easy answers here. But I'll go with George Atkinson III, who could become the next special teams ace for the Irish. Wouldn't be surprised to see him taking the opening kickoff against South Florida. Also, Kyle Brindza, who will unseat the disappointing Ben Turk as the starting punter right out of the gate.
A large, scary man
Jimmy: Stephon Tuitt and Kyle Brindza
Tuitt is a large, scary man. His ability won't be denied and he'll be in the DE mix with Ethan Johnson from the get-go. Tuitt's contribution is two-fold: he becomes a second "1st-stringer" when he's in, disrupting both the run and pass with aplomb. Meanwhile, Johnson benefits from the relief and maximizes every snap he takes on the field, likely propelling his draft stock.
Brindza comes in as an absolute kicking specimen with probably the strongest leg on the roster. He should take over kickoffs and may push Turk for punting duties. If that's not immediate contribution, I don't know what is. Winning the 3rd phase is crucial to program success.
Matt: Kyle Brindza*
I'll asterisk this one, as I think most ND fans (and I assume my fellow Roundtable writers) would agree that Lynch, Tuitt and Ishaq have an opportunity to make a difference right away in the front seven. To discuss someone different, I'll go with Brindza, who has a monster leg and figures to give incumbent Ben Turk all he can handle for the punting duties. Turk has been a disappointment for the majority of his career, and it wouldn't shock me if Brindza was punting and kicking off on September 3rd against USF.
Best Overall Career
Jeremy: Everett Golson
Although he's slight in stature, Everett Golson is the perfect spread QB for the Kelly offense. Really the only foreseeable limitation (other than his size, of course) is the depth chart ahead of him. But I think Kelly is going to find it extremely difficult to keep him off the field in 2011, and I'd expect him to be starting by the time the Irish head to the Emerald Isle to open the 2012 season.
Jimmy: TBD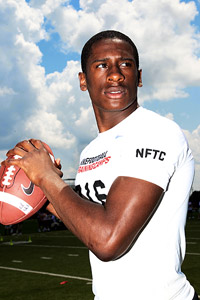 Matt: Everett Golson
I couldn't be more impressed with Golson after watching his interview and highlight tape on UND.com. Just a kid that seems to get it and an undeniable talent at QB. Last year, BK inherited a recruiting class, and he admitted yesterday that his recruiting consisted of trying to keep Charlie's class together. Translation: these weren't my guys. Not saying that BK would or wouldn't have recruited them anyway, just that they were Charlie's guys that BK had to retain.
At QB, Rees has proven an effective game manager, bringing up memories of Matt Lovecchio. Andrew Hendrix has drawn rave reviews while remaining a mystery to ND fans. But Golson is his handpicked QB to run the spread, and received offers from UF, UGA, SC, UNC, Ohio State and Tennessee to name a few. It's not like he's just a guy who Kelly sees as a long term project. Don't let the 3 star ranking or 6 foot height fool you – Golson is a big time QB prospect. Not to go all Beano Cook on you with this prediction, but I believe that when it's all said and done on his career, Everett Golson will have been the QB that leads ND to a national championship.
Biggest Need for 2012
Jeremy: RB, Interior Line, DB
There are several. Kelly has recruited only two RBs in two classes, neither of whom could be considered perfect fits for what he wants to do on offense. Cierre Wood does have 3 more years of eligibility, and there are rumors that Theo Riddick could be moving back to RB, but its time for Kelly to grab a few elite backs. Also – depending upon how that DE depth chart works out, the Irish probably need to get a few interior offensive lineman, including an elite center. Other needs include defensive backs (including a few corners and at least one elite safety), a stud WR, a stud ILB, and at least one big body for NT. Kelly is going to have to be a bit stingy with his offers because there won't be many scholarships to go around, but hopefully the on-field performance of the team will allow him to aim high in the 2012 class.
Jimmy: RB, Offensive Line, DB
Optimistically big picture, a handful of impact players who push Notre Dame back into a BCS bowl and NC contention. 2012 boasts a gauntlet of a schedule, but the talent and learning curve should coalesce into a special season. More specifically, absolute team needs will be running back, O-line and defensive secondary. Kelly has stated he'll always look to add a QB with every class and playmakers are always on the radar, as they should be. Can't disagree with that. What I appreciate the most out of Kelly's first full cycle is they started with a plan and executed it quite well. D-Line was the focus and the coaches followed through emphatically. I have confidence Kelly will take stock of what he has, where the parts fit in and address accordingly.
Matt: RB, DB, DT
I talked about this above, but running back and the defensive backfield become alarmingly thin after this year, with a lot of unproven guys on the roster that may or may not be an answer. To his credit, BK has already admitted that these are need areas and has begun to target and offer many of the top juniors at these positions. Barry Sanders Jr. would look good in blue and gold.
The third category that is an absolute must for ND next year is defensive tackle. For whatever reason, this has been the most elusive position for ND to recruit over the years. Think about it, when was the last time ND has someone even in the same ballpark as a Glenn Dorsey, Mount Cody or Nick Fairley? Trevor Laws was a nice interior player and if he got to play with guys like Manti Teo and some of these incoming pass rushers, he may well have been remembered more fondly. But as it turned out he was a bright spot on some of the worst defensive units in ND history. These SEC teams that are holding the crystal ball at the end of the year have had the common denominator of a big ugly that wreaks havoc in the backfield and stuffs the run. ND hasn't had that kind of guy in forever.
All reports are that Louis Nix (from Jacksonville with offers from the Florida triumvirate) is ready to burst onto the scene, and the position should be in capable hands this year with Hafis Williams and Sean Cwynar in the mix as well. But if ND wants to complement its new cache of pass rushers off the edge, they absolutely need one or two mammoth run stuffers up the middle.
Honorable mention to offensive line, although BK has some options and flexibility to switch several of these defensive lineman to the offensive side of the ball. I'll withhold judgment on this position until the roster moves are all finished, presumably at the end of spring practice.