The wait is over. Let the pomp and circumstance begin in earnest, starting with a rousing
5th quarter in Madison tonight
. We dive into the opening slate of games with a handful of quality match-ups (though mostly cupcakes with plenty of sugar). Enjoy!
Opening on the road, without Andy Dalton, 6 points feels like a large spread. Despite the Andy Dalton success in recent years, TCU is a team built on solid defense. Despite losing a hefty chunk of its defensive starters, they return enough key starters to control Baylor. But my gut is that there are some first game butterflies for Dalton replacement Casey Pachall to overcome before TCU's offense get's going.
Big shout out to TCU super-fan Mike Doherty who became a father this week. Really don't have too many feelings here, but I seem to remember being burned by Baylor a few times last year. TCU's defense wins this one.
Jimmy: TCU (-6) Lock of the Week
Kudos to Baylor for its first winning record since 1995. RGIII is back in the saddle ready to build on their success, but any momentum will have to start in Week 2. TCU smoked the Bears 45-10 last year. Even with some key members in the NFL now, Gary Patterson has created a special program in Fort Worth. Fully expect more of the same butt-whuppin treatment.
Matt: TCU (-6) Lock of the Week
An apology to the loyal WeIs readers. I'm one week into a new job and already the man has me overworked and underprepared for college football. Not that i'm not ready for my Saturdays to be consumed with sitting on a couch or in a sports bar, just not enough time in the day for analysis this week. Picks only.
Mike: TCU (-6) Lock of the Week
I bet the farm on Baylor at +21 in this matchup last year and my confidence was unrewarded, as the Bears were shellacked by 35 points in Fort Worth. TCU lost some key performers on both sides of the ball to graduation, including their standout QB, Andy Dalton, but they have done a decent job of developing backups for immediate contribution in recent years. In addition, Dalton's replacement, Casey Pachall, was a highly touted prospect who should be able to fill the void ably. Although Baylor figures to be slightly improved in 2011, there is still a gaping talent chasm between these teams.
Phil: TCU (-6)
Admittedly, the only thing I know of Baylor is that they have a stud QB, and a stud safety (Ahmad Dixon). The only thing I know about TCU is that they have a white LB who wears a bunch of armbands (Carder) and a badass coach. I will go with Coach Patterson in this one, remembering last years beat down the frogs put on Baylor.
Two programs that had pretty questionable off-seasons. Maryland fired Terrapin Alum Ralph Friedgen, despite his successful tenure there, compared to pre-Friedgen Maryland. Meanwhile, I have no need to go into the scandals in Coral Gables involving Mr. Nevin Shapiro. However, Maryland at least brought in a good replacement in Randy Edsall, former UConn head coach. We can certainly question the sagacity of the lateral move, but regardless, he should have Maryland ready to go. Meanwhile, the Canes have multiple players suspended, and still have the threat of death penalty hanging overhead. Upset time!
I know the Canes are on the verge of complete collapse, and Al Golden might be looking for a way out of Coral Gables, but this seems like a classic "let's rally around the team!" moment. Plus, I just can't get excited about a Maryland team coached by Randy Edsall. I'm not sure I can think of anything more vanilla than that combination.
"With so much drama in the Coral Gee it's kinda hard being new head coach Alan G."
Tried to come up with another verse, but the creative fountain dried up. Former Eastern seaboard counterparts from Temple and Connecticut, Al Golden and Randy Edsall wish the circumstances were a little different for their ACC debuts. Hard not to like the home team getting points against a Miami program still reeling from Hurricane Nevin. I trust Edsall to continue building on his success at UConn and establish his smashmouth brand of football in College Park. There will be some bumps along the way, but I think they start the season off on the right foot. Cue the Chorus:
"Rollin with white boy, Nevin Shapiro, party time at the U.
With his mind on Miami and a Ponzi scheme gone wrong"
The circumstances could not be more different for the head coaches of these two teams, both of whom will be making their debut at their respective schools. Miami's Al Golden inherited a team with some talented starters, but the Canes were faced with serious depth issues before the recent suspensions from the Nevin Shapiro fallout. From a psychological standpoint, the Shapiro scandal will likely create another hurdle in Golden's efforts to build a culture of accountability in Miami after an extended period of inconsistent, undisciplined football under Randy Shannon. On the other sideline, Randy Edsall brings his steady demeanor to a veteran Maryland team with a solid offensive backfield and several defensive standouts. Miami certainly has the firepower to beat Maryland on the road, but I will side with the stable Terrapins over the traveling circus from Coral Gables.
Recently, Yahoo reported that Cane football players indulged in strippers, booze, boats, and sex with some sleaze ball who had stolen a bunch of money. I know, earth-shattering shocker! Actually, I was only shocked that there were not more lavish details. Now the U has players suspended and must go on the road to face a team with a good QB and an energetic new coach. I like Maryland to at least cover, if not win outright.
Boise State (-3) @ Georgia (Atlanta)
Boise State continues to look for their first victory over an SEC appointment with a visit to Athens. One of the pre-season favorites to make the trip to NYC (no way he wins the Heisman in my opinion), Kellen Moore should not have too much difficulty putting points on the board against a Georgia defense that was at best inconsistent last year. I don't think Georgia can keep up in this foot race.
Boise State 31 Georgia 24
Should be a great battle in the Georgia Dome on Saturday night. Disappointed I'll be in the car for most of it. There may not be a better QB matchup all season. Not sure why, but I really think UGA is a team of destiny this year. If they can get through the first two games unscathed (next week they've got the Gamecocks in Athens), the schedule sets up very nicely for a run to the SEC title game (no Bama, no LSU, no Arkansas). This is really just a pure gut pick, since the loss of AJ Green and Georgia's tailback depth is pretty frightening. Guess I think Aaron Murray is just that good.
First off, let's call a spade a spade. This is no neutral site game. This is as "home" as home gets, minus some hedges. Second, Kellen Moore is still at Boise State?! Did he have 2 medical redshirt years? He's earned himself a starting role on the Jess Settles All-Stars gridiron squad.
America's darling is back. Some people may be sick of them and their Smurf Turf. I can't get enough. I was shotgunning the orange Bronco-ade last year and I'm keg-standing it this year. Now that Boise State is part of the improved (though BYU and Utah-less) Mountain West Conference, an undefeated run from the MWC brings even more BCS street cred.
Back to the game at hand. Normally, the prevailing wisdom is give Chris Peterson 2 weeks to game plan and he'll out coach anyone to a victory. Give him an entire off-season? Well, last year's 33-30 thriller over Virginia Tech spoke volumes of his abilities. But I get the impression there's serious urgency in Athens. Aaron Murray is an emerging star who can go toe-to-toe with Kellen Moore (alright, maybe knee-to-toe). Mark Richt's microwaveable hot seat is an early loss or two before UGA nation looks for the ejector seat button. I just feel like Georgia rides the crowd frenzy and finds a way.
Georgia 29 Boise State …..
Wait, am I really picking a 6-7 team last year to beat a Boise squad who's lost twice in the last 3 years and returns a senior laden lineup? I'm not jumping off this wagon on a mere gut feeling. Someone needs to prove the Chris Peterson Theory wrong before any rash decisions.
Boise State 34 Georgia 29 (that's better)
This year's Boise State outfit, unlike the 2005 team, appears to have the ability to defeat Georgia. Still, it will be a tall order for the Broncos, who will be facing a talented Bulldog team with an emerging star at QB in Aaron Murray and an athletic defense in its second year under coordinator Todd Grantham. Moreover, Boise must replace both of its starting receivers and other key components of last year's team, which may result in some early growing pains this season, even with Kellen Moore returning. Look for Georgia to score a huge win for the embattled Mark Richt before a partisan UGA crowd in Atlanta.
Georgia 31 Boise State 28
Rivals.com
shows "Jawja" as one of the top recruiting teams year in and year out. Why Mark Richt fails to do any real damage is another story. For this season opener I think, and hope, and pray that his talent can overpower scrappy Boise. I loved the underdog story when they beat Oklahoma in the Fiesta Bowl, but now I have grown tired of them and definitely do not want them crashing the national title game. I site Georgia's throttling of Boise in the season opener a few years ago as my guide.
Oregon vs. LSU (-1) (Arlington, TX)
No question about it – the marquee match-up of the weekend comes on Saturday night as two top 5 teams meet in The House That Jerry Built. While both teams are suffering from suspensions to key personnel, there is a lot more controversy swirling around the Tigers of Baton Rouge. I generally never go against SEC in an SEC – PAC 10 match-up, but I feel like this LSU program is in a bit of disarray right now. Ducks come down south and make an early season statement that their title aspirations are for real behind a strong game from LaMichael James
If we learned anything from last year's title game, it's that a disruptive defensive line can throw a monkey wrench into the Ducks' warp speed offense. And they practically grow defensive linemen on trees in Louisiana.
I'm not convinced that LSU is as good as advertised, but Oregon lost some big defensive weapons and the Tigers should be able to move the ball well enough to keep the Ducks' offense off the field.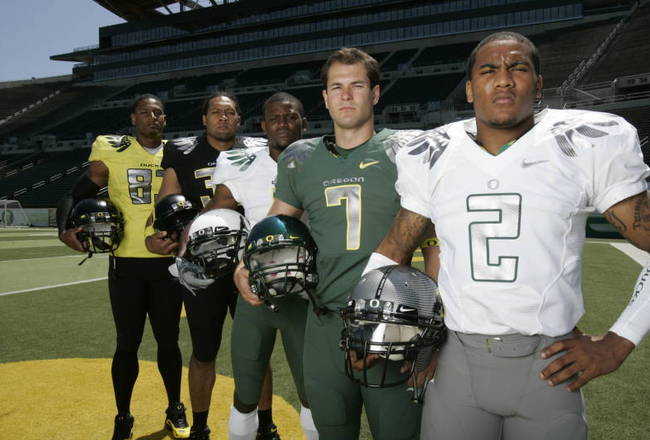 Gotta love Oregon's attitude in scheduling this doozy. Chip Kelly aced his correspondence course in the Pete Carroll "Anytime, Anywhere" Mindset. The Ducks come in royally pissed off after scaling the BCS mountain and coming SOO close to a championship celebration, only to have some pipsqueak kicker dash their dream season on the last play. Though their offense didn't do much, they fought Auburn to a virtual stalemate. Quick comparison between Auburn '10 and LSU '11:
Auburn had the best offensive weapon in America. LSU
might
have the 50th best, and that's generous. Auburn had giant forces on the D-line brimming with undefeated confidence. LSU has young, somewhat inexperienced talent playing the 1st game of the season tasked with containing this year's best offensive weapon. And, oh yeah, did something happen last week in Baton Rouge? Major distractions involving the starting QB are never good (though that's a comparison on par with Auburn '10).
Jordan Jefferson's suspension coupled with top WR Russell Shepherd's suspension means a few Plan Bs will take the field for the Bayou Bengals. Somehow, Les Miles responds best to this kind of chaos and turmoil. Enter Jarrett Lee and his 2nd (or is it 3rd? Maybe 4th?) chance to wrestle the starting reins from the erratic, but less turnover prone, Jefferson. Honestly, I think LSU's offense will be pretty sloppy, though I expect they'll rely heavily on the ground game and Spencer Ware.
Speaking of ground games, Oregon boats the best RB in the land - LaMichael James (who was destined to be mine in our college fantasy league until our commish fumbled the inputting of the draft order. Not bitter anymore Phil. Nothing but love.) James will run wild all season with returning QB Darron Thomas orchestrating the action. While LSU may cage James for stretches, I trust Chip Kelly has watched the N.C. game film a few dozen times and he'll figure out ways to attack the LSU front line with better results.
Oregon is hungry to prove last year was no fluke.
Although LSU's Jordan Jefferson has never been a stellar quarterback for the Tigers, he is more talented and experienced than Jarrett Lee, who will fill in for the suspended Jefferson. Oregon will be playing without its star cornerback, Cliff Harris, but the Ducks should be able to control the LSU passing game with Jefferson and WR Russell Sheppard sidelined. Even though LSU's defensive line will likely cause some problems for Oregon's explosive spread attack, the Ducks will score enough to handle the punchless Bayou Bengals rather comfortably.
Phil: LSU (-1) Lock of the Week
If Jordan Jefferson was actually a good player, he would be a candidate for the famous Ewing Theory, but I anticipate Jarrett Lee will manage the offense fine. Honestly, the loss of wildcat WR Russell Shepherd will sting more than JJ. That being said, Auburn proved last year that this game can be won in the trenches, and LSU has speed and power on the lines that a PAC-12 team cannot counter. It's a shame for "nice guy" Chip Kelly, as his Oregon team is very talented, but LSU is known for being big game badasses.
Dan: Ohio -7 @ New Mexico State
I don't know much about either of these teams this year, but I know one thing. Bet against the state of New Mexico in college football.
Ohio 28 New Mexico State 17
Jeremy: Elon @ Vanderbilt (-12)
I don't really know anything about Vanderbilt, but I can't believe this line is accurate. Is Elon frisky or something?
Jimmy: Marshall @ West Virginia (-21)
Nothing says a team is ready for its rivalry matchup than having a starter arrested and charged with 4 separate armed robberies the week of the game. Ladies and Gentlemen, the 2011 edition of the Friends of Coal Bowl!! New HC Dana Holgorson inherits some potent Mountaineer weapons to build a Stillwater East offensive juggernaut. Good news (here's hoping) for my fantasy wideout Tavon Austin, who should become a favorite target of Geno Smith. Like WVU big here.
West Virginia 48 Marshall 20
Matt: Wake Forest +6.5 @ Syracuse
Mike: UCLA (+3) @ Houston
Perhaps I am setting myself up to look like a fool (wouldn't be the first or last time), but I actually think UCLA could be a sleeper team this year. The Bruins have plenty of talent on both sides of the ball and Slick Rick Neuheisel just might have a few tricks left up his sleeve.
Phil: Utah State @ Auburn (-21.5)
New QB, new O Line and new D Line have the champs predicted for a 6-7 win season. While I am not quite ready to disagree, I do see the Gus Bus scoring early and often for this 11 am opener. Look for several studly freshman to get game experience in this one, especially RB Tre Mason (remember that name).