On the day that Barack Obama ushers in a new legacy of hope to the White House, Irish fans have new reasons to hope that 2009 will be a new and improved year for Charlie and his Football Factory.
Two new grad assistants
with sparkling resumes will join the Irish sideline: Bryant Young and Tim Grunhard. How can you get better entry level coaches than Bryant Young and Tim Grunhard?? Between them, they share 25 years of professional wisdom to impart and 5 Pro Bowl selections. Young won a Super Bowl with the 49ers, was voted NFC Rookie of the Year in 1994 and NFL Comeback Player of the Year in 1999. Both were highly regarded by their professional peers as
terrific teammates
, leaving no question that their egos will be checked at the door. Both played in the last heyday of Notre Dame football, Grunhard a starter on the '88 champions, Young a stalwart on the defense that shut down the "national champion" Seminoles in '93. Even though they can't hit the road and recruit, they're impact with name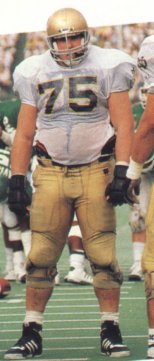 recognition alone just sent tremors through high school programs. A year or two of grooming and they could become mainstays as line coaches on each side of the ball. They're obviously not taking the jobs for the money, but rather want to give back to the school that provided them with terrific opportunities. How these two even became interested and candidates to join the staff is beyond me, but it's a big step in the right direction for Charlie's resolve to fix what's broken.
Lost in the hoopla of the two alums returning to their alma mater is the addition of Tony "Don't Call Me Steve" Alford as the running backs coach, the position vacated by Mike Haywood. I won't pretend to know much about Alford other than what I gleaned from the SBTrib article, but he sounds well-respected in the field. He could very well be one of those diamond in the rough finds who exceeded expectations as a player at a mid-major (Colorado State) and now has built up a coaching resume to get to this point. The most heartening news from his stints at Iowa State and Louisville is the consistent production of 1,000 yards seasons (every year from 1995-2001) while taking care of the ball (13 fumbles in 8 years!). For a good stretch, Iowa State produced randomly great RBs with gaudy numbers. How? Credit must go in large part to Steve, err, Tony Alford for this surprising production from players like Troy Davis, Ennis Haywood, Stevie Hicks and Darren Davis. Let's hope he brings that same magic to South Bend.