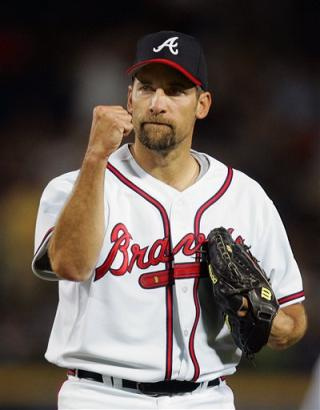 A very sad day for Braves fans everywhere. John
Smoltz
will be donning the Red
Sox
uniform this spring. All that's left from the glory years of America's Team is Bobby Cox (who will retire after this year for sure) and Chipper Jones (who is in the last year of his contract).
If this was Mike Hampton, or Tom
Glavine
or any other pitcher, I could see why the Braves would not have made an honest effort to resign
Smoltz
. And if Keith Law is reading this blog, you can stop right here and move on. This isn't about
Smoltz's
road K:BB ratio or what the Pitch
FX
data say about his diminished fastball. It's about keeping around a guy who has been with the Braves his entire major league career. A guy who has sacrificed for the team, whether it's pitching hurt - or jumping from starter to closer to starter again. A guy who is so loved in the Atlanta community that the Atlanta Journal Constitution website couldn't even handle all of the comments yesterday that were pouring in when the news broke that
Smoltz
was going to Boston.
It boiled down to 3 million dollars. For a team with a payroll that will eventually be closing in on $90 million, and with $25 mill still to spend this winter, the Braves didn't trust
Smoltz
enough to pony up $3 million more dollars. This despite the fact that all reports were that he was ahead of schedule in his rehab. I understand that the Braves did not want to have the same thing to happen with the pitching staff as did last season, when everyone got hurt (Hudson,
Smoltz
,
Glavine
, Hampton). But
Smoltz
wasn't
going
to be ready until May at the earliest, so it's not as if he would have been penciled into the #1 spot like last year. And it's not as if he would be blocking any young guys from pitching (God knows Braves fans have seen enough of Jo-Jo Reyes on the mound. I'd feel better about
Smoltz
pitching left handed with his right arm in a sling than I would about Reyes). They needed a veteran guy in the clubhouse and on the mound. As it is, their rotation is
Jurrjens
,
Javy
Vasquez and three question marks. And to top it off, instead of a one year $5 million dollar deal for
Smoltz
, you can put it in pen that Frank Wren will do something stupid like 3 years $42 million for Derek Lowe.
Which brings us to Frank Wren. This
offseason
has been a trainwreck. The pursuit of
AJ
Burnett for a ridiculous contract. The public Jake
Peavy
back and forth. The Rafael
Furcal
disaster. No offense to these fine groups of people, but I feel like I'm a Pirates or Royals fan. This type of stuff doesn't happen to the Braves. Or at least it didn't use to under John
Schuerholz
. To top it off, here is Chipper Jones reaction to the
Smoltz
news: "I am pissed. Very pissed. Deflated. Frustrated. It's been a very long
offseason
, not a lot of stuff to really get excited about and then to have this it just is the icing on the cake for me." He goes on to say that the Braves management promised to at least discuss a contract negotiation, but hasn't heard a word yet.
Anyway, I guess that the Braves had their reasons for not signing
Smoltz
. To me though, even putting aside the fact that
Smoltz
is still a GOOD pitcher when he's healthy, the right move was to get an extra $3 million from the bank and keep John
Smoltz
in a Braves uniform. The guy is a flat out winner. It's a shame, and the glory days under John
Schuerholz
keep getting further and further in the rear view mirror