Since Doug's Pac-10 post was so well-received by our thousands
(hundreds? tens?) of readers, and being that in two weeks I will be driving a U-Haul straight into the heart of ACC country, here are some picks on the fortunes of arguably the weakest of the BCS conferences. Again, these over/unders are straight from the experts at
vegasinsider.com
.
ACC Overview - If everything goes by the book this year in the ACC, you may want to tune your television sets elsewhere on Saturday afternoons. There are two HUGE favorites, a slew of teams pegged for mediocrity, one frisky under the radar team and then some downright dogs at the bottom of the conference. At the ACC media day, Clemson received 59 of the 65 votes to win the Atlantic Division. Meanwhile, Virginia Tech received 58 of 65 votes to take home the prestigious Coastal Division title (raise your hand if you knew the ACC had an Atlantic and a Coastal division).
There are some intriguing storylines, including the post Matt-Ryan era at BC, the rise of UNC under Butch Davis, the resurrection of Miami under Randy Shannon, and the attempted revival of Duke under David Cutcliffe. But when it comes down to it, the ACC inspires most to dream of Midnight Madness in October on most campuses and this year doesn't appear to be any different.
How's this for a bold prediction: Duke will begin the season 3-0. The opening schedule consists of 3 home games against James Madison, Northwestern and Navy. Last year's team won at Northwestern and lost a heartbreaker to Navy by 3. This years team returns 17 starters from last year including decent QB Thad Lewis. Of course the big change is David Cutcliffe is in as head coach. While I don't see and Ole Miss like rising from the ashes to form a legit program, I think that the Dukies will find another win on the schedule, most likely at Vandy or NC State at home. That's cause enough for a ticker tape parade through the streets of Durham before everyone turns their attention back to Coach K fresh off his Olympic Gold.
VIRGINIA - 4.5 wins - UNDER
If you would have told me that UVA would lose their first game to Wyoming last year and still go 9-4 I would have said no freaking way. But a closer look at their results shows one of the flukier seasons in recent memory. They won an amazing 5 games by one or two points and were 101st in the country in total offense. With Chris Long gone and starting QB Jameel Sewell suspended for the year for academics, it could be a harsh dose of reality in Charlottesville. A brutal last 3 games of at Wake, Clemson, at Virginia Tech could get ugly.
GEORGIA TECH - 5.5 wins - OVER
After watching Tech absolutely destroy Notre Dame from the endzone of Notre Dame stadium last year, I find it hard to believe that:
a. Tashard Choice didn't win the Heisman. I was ready to start some witty Choice is the Choice for Heisman campaign myself for the guy.
b. Paul Johnson is now the head coach of the Jackets. Anyone who says they have any idea about how this season will play out for them is just being ridiculous. I think highly enough of Johnson that I think he'll get 6 wins out of this team (the games against Jacksonville State and Gardner-Webb don't hurt), but I really have no idea what to expect.
c. John Tenuta is a member of the Notre Dame coaching staff. That 33-3 win last year was about as dominant a defensive performance I've seen in a while. Tenuta had every player on the field flying to the ball and causing havoc in the backfield. If that is any indication of how this years ND unit will be playing, then we could be in for a good year.
NORTH CAROLINA STATE - 5.5 wins - UNDER
I wonder how much Tom O'Brien is enjoying that move from Boston to Ra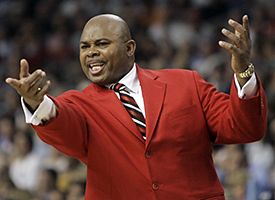 leigh. While BC just went through a great era in the history of the program, O'Brien is still trying to figure out how to win at NC State. A defense that was last in the ACC lost 7 starters from 2007 (Ok, not sure if that is a good or bad thing). The schedule gets tougher with nonconference games including the opener at South Carolina and a home game against USF. I don't see a bowl game in NC State's future. At least their hoops coach wears a slick red coat.
NORTH CAROLINA - 6.5 wins - OVER
While it is indisputable that Butch Davis is building something at UNC, the fact remains that the team only went 4-8 last year. After a season opening cupcake party against McNeese State, the direction of their season will be determined in the next 5 games: at Rutgers, VT, at Miami, UConn, ND. I see the Heels coming out of that stretch of games at 2-3, but luckily
for them, the schedule eases up the rest of the way, including missing out on Clemson, FSU and Wake.
Notre Dame fans should be familiar with the name Greg Little - he's the guy who spurned Charlie at the 11th hour. The wide receiver turned running back will headline the offense that also features Mike Paulus as a true freshman backup QB. For all of the country's sake, here's to hoping he isn't as annoying and unlikable as his big brother.
Ralph Friedgen has quietly carved out a nice little niche in College Park (or maybe a nice big niche? He makes Chuck Weis look like a regular Weight Watcher). He'll usually play one marquee out of conference game a year ('02 ND, '03-'07 West Virginia, '08 Cal), play 3 D 1-AA caliber opponents if at all possible (Delaware, Middle Tennessee, Eastern Michigan) and then try to go .500 in the ACC. Usually that adds up to about a 6 or 7 win season and a berth in the Emerald Bowl or Music City Bowl or something. And apparently the administration is happy, the fans are happy, and the heat gets shifted to National Championship winning coach Gary Williams.
Since I really have no analysis of the Maryland football program, allow me to voice my displeasure with the trend of everybody playing the Villanova's and Delaware's and Western Carolina's of the college football world. I'm not thrilled that ND is playing a team like San Diego State, but at least it's a fairly reputable D1 school in the first week of the season. If ND was out there scheduling Charleston Southern as their home opener like Miami this year, there would be a revolt among the ND Nation. Do fans of other schools really get pumped to go to these games? As far as I am concerned, there are two men coaching football who fear no one:

This year, Pat Hill will be taking his team to Rutgers and UCLA while welcoming Wisconsin to Fresno. And the Trojans will be playing at Virginia with Ohio State and ND at home. No Northern Arizona's or Youngstown State's on these two men's schedules.
Randy Shannon had a very unenviable task in front of him. When he walked in the door, things were so bad that he had to put in a firearm discipline policy, something that many coaches around the country probably don't have to worry too much about. Was Larry Coker just letting guys bring their guns to practice? Either way, Kyle Wright has graduated after spending what seems like the last 8 seasons tarnishing the legacies of Bernie, Vinnie and Gino. Unfortunately, there is no paisan waiting in the wings to take over - only two freshman. With games at Florida and at Texas A&M, I see only a slight step forward for the program this year.

On a separate not, here's to hoping that Swarbrick is on the phone right now to the Miami AD to see if we can't get a series set up between ND and The U.
BOSTON COLLEGE - 7 wins - UNDER
With Matt Ryan gone, the QB position is turned over to 5th year senior Chris Crane. An experienced guy who should be able to step in and maintain BC's momentum, right? Uh, not so much. The guy has thrown 32 career passes. Well at least they should be able to rely on the running game. Ok, maybe not. Andre Callender and LV Whitworth have exhausted their seeming endless supply of collegiate eligibility and a true freshman is expected to start. Throw in about the toughest 6 week stretch you can have in the ACC midseason of VT, at UNC, Clemson, ND, at FSU, at Wake, and I'm not feeling too optimistic about BC this year.
One thing we might find out about though is how good of a coach Jeff Jagodzinski is. He rode Matt Ryan's coattails last year, and let's just say that I am a little skeptical of what direction Coach Jags will be taking the program. And yes, wearing a leather jacket on the sideline is a factor. Although defensive coordinator Frank Spaziani does have one of the more underrated snout brooms roaming the sidelines. No confirmation yet to the rumor that Joe Tiller sent his entire coaching staff to Chestnut Hill this offseason to get the latest mustache grooming and growing techniques from Spaz.
WAKE FOREST - 8 wins - OVER
If you remember at the beginning of the preview, I tabbed one school as a frisky under the radar team. Well, look no further than your 2008 Demon Deacons. While my bias may already be coming through even though I haven't set foot on campus yet, I see Wake primed to make a serious run at a conference championship. They return virtually every key piece from last year, including last years NCAA comletion percentage leader (72.4%) Riley Skinner, last years ACC Rookie of the Year RB Josh Adams, and All-American cornerback Alphonso Smith, who picked off 8 passes last year and already holds the ACC record for most INT's returned for TD's.
The schedule is favorable for a big run in the ACC. Clemson comes to Winston-Salem on a Thursday night for what will in all likelihood be the biggest game in program history. Having never been a part of Thursday night football, I couldn't be more excited about that game under the lights. Of course I'll probably have a Quant exam or Econ paper due on Friday, but we'll worry about that later. Virginia Tech is nowhere to be found on the schedule, and out of conference is a respectable but highly manageable slate of at Baylor, Ole Miss, Navy and Vanderbilt.
I'll leave it at this. Take it to the bank that Jim Grobe is getting 9 wins out of this team. If the Deacs win that Thursday nighter against Clemson, than a conference title will be well within reach. And if you're feeling lucky, head on over to vegasinsider.com and lay down 10 bucks at 100-1 odds on Wake to be holding the National Championship trophy in January. I just did.
FLORIDA STATE - 8.5 wins - UNDER
The Seminole nation heads into another season waiting for Drew Weatherford to finally make the leap from 'guy who shows glimpses but makes too many dumb plays' to 'guy who was supposed to be All-American when he was recruited.' Let's just say I'm pretty confident we will not be seeing Weatherford's name on any All-American lists this year. It's pretty unbelievable that a school like FSU hasn't recruited another QB to come in and take over yet, but it looks like it's Weatheford's job for now.
With the huge academic scandal from last year in which so many suspensions were handed down Bobby Bowden was almost forced to suit up in the bowl game, coupled with the suspension of Preston Parker in the offseason for cruising around Miami with a loaded .45 and weed, it is difficult to see FSU reaching Vegas' lofty expectations. Sorry, 'Nole fans, this is a 7 win team. At best.
CLEMSON - 9 wins - PUSH
Sorry to cop out here, but Vegas is right on the money with this line. Would it surprise me if Clemson won 10 or 11 games. No. The talent is there for a monster season. But haven't we been down this road before with Tommy Bowden? It seems like every time there are big preseason expectations his team fails to live up to them. There is an annual Tommy Bowden on the hot seat story. And every year he seems to rally the team late and save his job and Clemson fans are forced to talk themselves back into him.
Clemson has a HUGE opener against one Nicholas Saban and Alabama in Atlanta. Wow. It doesn't get much better than that. If they can pull that one out, then they are cruising until that aforementioned showdown in Winston-Salem and are a legitimate national championship contender. With Cullen Harper, James Davis and CJ Spiller back to lead one of the most potent offenses in the country, and no Virginia Tech on the schedule, Tiger fans have every right to expect nothing short of a BCS appearance. But if history tells us anything, they might be disappointed come January. Only this time, if Bowden screws it up, chances are the Tiger faithful will be talking themselves into a different coach come next season.
VIRGINIA TECH - 9.5 wins - UNDER
I have to admit, I was shocked that Virginia Tech had the highest predicted win total by Vegas. I mean, they did win 11 games last year, but leading rusher Branden Ore was booted from school, and their top 4 receivers all graduated (well, exhausted their eligibility, I don't know if they actually got the sheepskin from this fine institution). BeamerBall will again incorporate two qb's, which after their first loss will inspire every TV analyst to trot out the old adage 'if you have two qb's you really have no qb's.' Although Sean Glennon and Tyrod Taylor both have had their moments, neither inspires much confidence among Hokie faithful. The defense returns only 4 starters after losing several key players to the NFL.
If there is one reason why Las Vegas pegs Virginia Tech as the ACC's biggest victor, it has to be the schedule. Nonconference games against East Carolina, Furman and Western Kentucky are a joke. Come on Beamer, you're better than that. A trip to Lincoln to visit a rebuilding Huskers team is their only nonconference test. Even with the easier schedule, I just don't think the talent is there for a stellar season in Blacksburg. Pencil in the Hokies for leading
the NCAA in blocked punts....and 8 wins.
As an aside, I came across this painting of Frank Beamer being sold on some artist's website in Virginia. The guy by all accounts was serious in his artwork and devotion to the Hokies, as he also had portraits of Sean Glennon and Tyrod Taylor. Ummm, buddy, might be time to let go of the dreams of that painting career. Good God, Beamer is a legend in Blacksburg and this is what that gets him.